Lead for independent review of the Mental Health Act says his report could have "significant" cost implications
Sir Simon Wessely said his final report will make recommendations that require new investment in the sector
Comments follow the publication of interim findings
Sir Simon says long term funding settlement for the NHS must include more investment in services for severe mental illness
The government's mental health tsar has said his independent report could have "significant" implications for NHS funding.
Professor Sir Simon Wessely told HSJ the independent review of the Mental Health Act 1983 will make recommendations calling for more investment for the sector.
He said improving the dignity and respect shown to people detained under the act will require more investment in areas such as:
reducing detention rates;
clarifying and potentially extending who is eligible for section 117 aftercare;
making sure patients are not routinely transported in police vehicles; and
improving safeguards around second opinion appointed doctors.
Sir Simon said no figure has been worked out yet but some of the recommendations would not be cost neutral. However, he said while the review will be "bold" in its ambitions, this must be balanced.
He added: "Yes, I think we will make some ask on [the Treasury].
"It's about being ambitious but not too ambitious; bold but not terrifying the horses so they bolt out of the stable."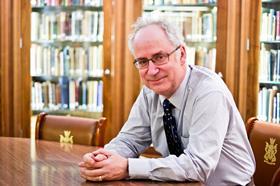 His comments come after the independent review panel published its interim findings earlier this week. It said some areas requiring attention had "potentially significant financial implications".
It set out areas it will investigate further before the full report and recommendations are published in the autumn.
The review was commissioned by Theresa May last year, following her pre-election pledge to rip up and replace the "flawed" act.
The number of people detained under the act rose from 48,600 in 2011-12 to 63,600 in 2015-16, while Number 10 said black people are six times more likely to be detained under the act.
Sir Simon was appointed to chair the review in October with a remit to investigate the rising detention rate; the disproportionate use of the act on black, Asian and minority ethnic groups; and what processes were "out of step" with a modern health system.
The former Royal College of Psychiatrists president said the upcoming "sustainable long term plan" for the NHS needs to honour the promises of the Five Year Forward View for Mental Health.
Sir Simon said the multiyear financial settlement for the NHS, expected in July, must also provide funding for mental health similar to previous investments in improving cancer and emergency services.
He said while good work has been done improving talking therapy and perinatal and liaison services, more focus needs to be put on services for patients with severe mental illnesses.
Sir Simon said: "It has become clear we have neglected proportionately the severe end of the spectrum.
"The more severe mental illness – illnesses affecting BAME people, ones where detention is more common, where discrimination is more likely, where the consequences are more severe – we have not put in the same energy, thought, investment we have put into mild to moderate conditions.
"But as we finish this [review] we will be starting to think about the next Five Year Forward View, the next spending review. I think now we need to put the same energy, focus and investment into improving the state of our mental health hospitals; the kind of investment programme put into cancer and A&E."