Cygnet Health Care stops CAMHS service at hospital criticised by CQC
Decision followed quality review involving CQC and NHS England
Cygnet CAMHS services under scrutiny from regulators
Decision is "in the best interests" of patients and staff, says new chief executive
An independent provider is to stop providing children and adolescents' mental health services at one of its units after NHS England and the Care Quality Commission said further action was needed to safeguard the "health and welfare" of patients.
Cygnet Health Care announced today it would no longer provide any adolescent mental health services at its hospital in Woking. The unit was temporarily closed this summer after it was placed in special measures by the CQC. It had been undergoing a "phased reopening".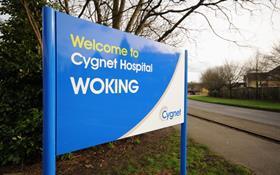 The tier four beds – described as a regional psychiatric intensive care unit – were commissioned by NHS England. The unit will close on Friday. HSJ understands there is only one patient at the unit, who will be moved elsewhere.
An NHS England South spokesman said: "While Cygnet had been taking action to improve services at the unit in response to concerns raised, a further multi-agency quality review on 26 October concluded that the provider was unable to assure the safety and quality of services for the young people in its care on a sustainable basis and that further action would have to be taken to safeguard their health and welfare."
NHS England will work with other providers to ensure young people get the specialised care they need.
Tony Romero, the new chief executive of Cygnet Health Care, said: "Following a fresh assessment of Cygnet Hospital Woking, we have decided to cease providing adolescent mental health services at this facility, and will apply to re-register the services for additional provision of adult mental health. We believe it would better match the hospital's current resources, patient pathways and capabilities.
"We are committed to ensuring that this decision will not see any disruptions in the care provided, and that our switch to providing solely adult services will be as seamless as possible. As a responsible and prudent mental healthcare provider, we believe taking this action was in the best interest of both our patients and the clinical and support teams at the hospital, so we can continue to offer our patients the highest standards care."
On Wednesday, the company said Dr Romero, who has only been in the job for a few weeks, would work with senior managers to "assess core strengths and identify and address areas that require additional support" across its services.
CAMHS services run by Cygnet in Woking, Sheffield and Sevenoaks have all been criticised by the CQC in recent weeks, particularly around safety and staffing.
At Woking, the CQC found young people under "constant observation" were able to self-harm and there were allegations of sexual abuse. Some patients claimed staff had been unsympathetic and vindictive, and serious incidents – including safeguarding concerns – were not always reported and dealt with appropriately. The CQC rated the unit inadequate.
The Woking hospital was a partner in a CAMHS new model of care with NHS organisations locally. One aim was to reduce out of area placements.