A switch to community treatment required a mental health trust to turn its centralised management system to a partnership model, as Dr Shakil Malik and colleagues explain
Sussex Partnership Foundation Trust, like most mental health services nationally, is faced with the challenge of rising demand while its care delivery model, until recently, had been over-reliant on inpatient use.
Although in recent years mental health providers have embarked on various transformation programmes aimed at implementing large-scale changes to corporate infrastructure, workforce and services, invariably all seem to be labouring with inconsistent quality standards and unsustainable financial burden.
Issues of parity of esteem and piecemeal developments underpinned by inadequate and/or inappropriate resources and skills have all contributed to challenges in service delivery.
By 2014, SPFT had realised that its viability needed rapid modernisation, with a radical change in the mindset, skills and system of approach to patient care so that the focus had to be essentially on community and home treatment.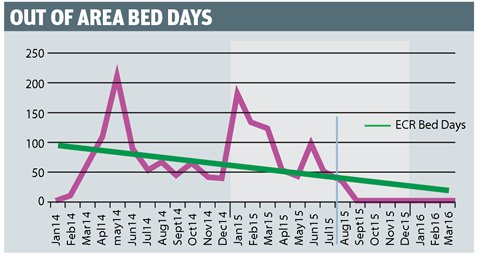 This was a tall order and we were aware it could only be achieved through meaningful partnership working and developing complementary clinical and managerial leadership.
Consequently, the trust embarked upon transforming a centralised and hierarchical management system to a more devolved, decentralised and horizontal clinical-managerial partnership model.
Patient expectations
A King's Fund summary on mental health pressures published in 2015 identified bed occupancy above recommended levels while community services including Crisis Resolution and Home Treatment (CRHT) Teams were deemed unable to provide sufficient support to compensate for reduction in beds.
The impact of this on patient safety, quality of care, patient and carer satisfaction and utilisation of resources does not come as a surprise. Care delivery has also suffered from lack of strategic focus, clinical leadership, staff engagement and burnout underpinned by clinical and managerial mindset still stuck in institutional care.
Patient expectations and experience with different providers was inconsistent and mostly unpraiseworthy
Up until June 2015 SPFT was labouring under high bed occupancy, with uncontainable and unsustainable out of area placements. SPFT has a budget of £230m per year, employs around 5,000 people and serves a diverse urban and rural population of around 1.5 million. The trust is a university teaching facility providing high class training to under and post- graduate doctors, nurses and allied professionals as well as promoting innovation and research.
The trust has 264 beds and the demand on services has continued to escalate in recent years. Mirroring national trends, our hospitals have been operating above 100 per cent occupancy against 85 per cent recommended by the Royal College of Psychiatrists.
Whole systems approach
Up until mid-2015, overspill from trust beds led to out-of-area placements to the private sector, sometimes hundreds of miles away and with variable quality standards.
Patient expectations and experience with different providers was inconsistent and mostly unpraiseworthy. Recovery and discharge was invariably delayed for logistics of organising appropriate aftercare and, not least, the financial cost of this would have been unsustainable for any mental health service.
As a result we embarked on working to a "no out of area" placement situation and undertook a whole systems approach to patient care and bed management. Our initiatives resulted in successful reduction of out of area admissions from 97 in June 2015 to zero in September 2015 and this has sustained to date (see graph).
Our whole systems approach focused on the following key steps to improve quality of care, with notable efficiency gains:
Professional engagement in alignment with trust vision.
Quality being the main driver for service provision and improvement.
Hospitalisation only exceptionally. Focus on community treatment; develop appropriate professional skills to enable home treatment.
Reduce length of stay in hospital by improving diagnostic and clinical management skills.
Reduce delayed transfers of care by focused work, support and monitoring.
Quality and safety assurance framework; daily communication and feedback from all inpatients units corroborated by regular audits.
Availability of senior professional and managerial support through structured teleconference seven days a week.
Professional engagement was achieved by initiatives aligning staff with trust values and vision. Cultural audits were undertaken and coaching provided individually, in pairs (clinician-manager) and across the whole senior leadership team facilitating partnership. Meaningful working alliance was defined, modelled, promoted and projected at all forums and cascaded down to frontline teams.
Autonomy was promoted with devolution of clinical -managerial authority to four care delivery services, (CDSs) with geographical jurisdictions aligned to local commissioning groups. Each CDS is a self-contained management unit led by a clinical director and a service director, with the senior clinical director and managing director overseeing and coordinating the alignment trust wide.
The success of our bed management is underpinned by improving quality of care through leadership and professional development
Our service realignment developed clinical and managerial leadership and enabled professional upskilling. To start with, a series of masterclasses were delivered for multi-professionals in risk management and treatment of psychosis.
Additionally, workshops were held for CRHTs and senior clinical and managerial staff were taken through leadership training programmes. Professionals working in the hospitals were upskilled through teaching ward rounds held in each unit.
Second opinions and more specialised clinical advice where needed were made available immediately from our pool of trustwide expertise.
These initiatives are structurally tied together, coordinated and monitored by a daily teleconference called the ICD 1 meeting (Improving Clinical Delivery 1pm meeting). This is chaired by the senior clinical director and has mandatory participation of the managing director, all clinical and service directors, hospital lead clinicians, matrons and bed managers from all our sites. The ICD 1 meeting is the operational peg that links our CDSs and facilitates essential communication and decision making.
The success of our bed management is underpinned by improving quality of care through leadership and professional development. Mutual respect, trust and complimentary working has led to improved clinician engagement, quality of care and consequent efficiencies. This could not have been achieved without meaningful clinician-manager partnership.
Dr Shakil Malik is senior clinical director and consultant psychiatrist, Dr Mihaela Bucur is clinical director and consultant psychiatrist, Dr Adil Jawad is lead clinician and consultant psychiatrist, Lorraine Reid is managing director and Michael Mergler is deputy managing director at Sussex Partnership Foundation Trust.
Find out more: Briefing: Mental Health Under Pressure, King's Fund