New data shows integrating talking therapies services with physical health services saved £200,000
Evaluation of the early implementer IAPT for long term conditions service in Cambridgeshire and Peterborough reduced use of physical health services
Biggest savings in reducing A&E attendances and hospital admissions among the cohort of patients
Providing talking therapies to patients with long term conditions saved nearly £200,000 for physical health services in one trailblazing site, data shared exclusively with HSJ shows.
The data is from part of NHS England's evaluation of the first and second wave early implementation sites for integrating improving access to psychological therapies services with physical health pathways.
Cambridgeshire and Peterborough Clinical Commissioning Group found introducing IAPT services to diabetes, cardiovascular and respiratory pathways saved £193,000 from October 2016 to September 2017.
This comprised reducing the number of times these patients needed to visit GPs, physiotherapists, specialist and practice nurses, and accident and emergency, as well as being admitted to hospital.
The evaluation found that for the 500 patients involved in the integrated IAPT for long term conditions in the area:
A&E attendances fell by 61 per cent and hospital inpatient admissions by 75 per cent;
GP appointments across the three specialties fell by 73 per cent;
the model saved £122,000 in hospital admissions and £5,300 in A&E; and
the greatest savings came from the cardiovascular pathway, worth more than £88,000.
NHS England pledged more than £70m in 2016-17 and 2017-18 to train new staff and deliver integrated IAPT long term condition services.
The national body selected 37 early implementer sites to develop integrated psychological therapy services, with the first wave of 22 sites announced in October 2016, and the second wave of 15 sites launched in September this year (see box).
This is part of the plans set out in the Five Year Forward View for Mental Health implementation document, to increase access to IAPT to 1.5m people a year. As part of this expansion, 3,000 new mental health therapists will be co-located in primary care.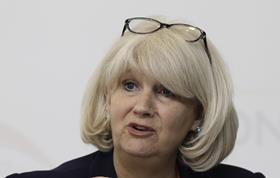 From 2018-19, the funding to extend these services, worth nearly £700m, will be invested into CCGs' baseline allocations.
NHS England national mental health director Claire Murdoch said: "Integrated physical and mental health care is the cornerstone of our mental health transformation plans.
"Psychological therapies for people with long term health conditions like diabetes can have an important, positive impact as the results of our new IAPT services show."
Other early implementer sites have also reported significant results, though with much smaller patient cohorts, from their IAPT long term condition services, including:
Buckinghamshire and Oxfordshire reducing A&E attendances in their patient cohort to zero;
Oxfordshire reducing hospital admissions by 100 per cent;
Herts Valley and West Essex CCGs reducing the average number of physical healthcare appointments from 4.8 to 3.4; and
Calderdale, Berkshire West and Berkshire East reducing GP appointments by nearly 50 per cent.
First and second wave integrated services sites
The 22 first wave early implementer sites are:
Aylesbury Vale and Chiltern
Blackburn with Darwen and East Lancashire
Calderdale
Cambridgeshire and Peterborough
Coastal West Sussex, Crawley and Horsham and Mid Sussex
Greater Huddersfield and North Kirklees
Harrogate and Rural District
Herts Valleys and West Essex
Hillingdon
Northern, Eastern and Western Devon
North East Hampshire and Farnham
North Staffordshire and Stoke on Trent
North Tyneside
Nottingham West
Oxfordshire
Portsmouth
Richmond
Sunderland
Swindon
Warrington
Windsor, Ascot and Maidenhead, Slough and Bracknell and Ascot
Wokingham, Newbury and District, North and West Reading, and South Reading
The 15 second wave sites are:
Bath and North East Somerset, and Wiltshire
Coventry and Rugby, South Warwickshire, Warwickshire North
Nottingham City
Sheffield
Solihull
South East Staffordshire and Seisdon, Cannock Chase, Stafford and Surrounds, and East Staffordshire
Thurrock
Blackpool, Wyre and Fylde, Chorley and South Ribble, West Lancashire and Lancashire North
Haringey and Islington
Brent, Harrow, Central London, West London, Hammersmith and Fulham, Ealing and Hounslow
Dorset
Ashford, Canterbury and Coastal, South Kent Coast and Thanet
North East Lincolnshire
Hardwick, North Derbyshire, Southern Derbyshire and Erewash
Telford and Wrekin
Source
Information provided to HSJ
Significant savings from mental and physical health integration pioneers
1

Currently reading

Significant savings from mental and physical health integration pioneers

2