Theresa May announces former Royal College of Psychiatrists president to lead review of Mental Health Act
Professor Sir Simon Wessely will lead the independent review
PM pledged to scrap and replace the act during election campaign
The prime minister has announced the former president of the Royal College of Psychiatrists will lead an independent review of the Mental Health Act.
Speaking at the Conservative Party conference in Manchester today, Theresa May said Professor Sir Simon Wessely will lead the review.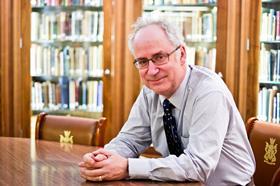 It follows her pre-election announcement to rip up and replace the "flawed" act to tackle the fact that too many people are being detained under the legislation. She promised that one of her earliest priorities if re-elected would be to scrap the Mental Health Act 1983 and introduce a new Mental Health Treatment Bill.
Ms May said today that tackling the injustice and stigma associated with mental health was a priority of hers.
She said detention rates under the act were too high and disproportionately affected black people.
She added: "But there's widespread concern that the existing mental health legislation passed more than three decades ago is leading to shortfalls in services and is open to misuse.
"I have asked Professor Sir Simon Wessely to undertake an independent review of the Mental Health Act so that we can tackle the longstanding injustice of discrimination in our mental health system once and for all."
Although Ms May did not announce any further details, HSJ understands it is due to be completed by the end of 2018. It is not clear what other parts of the act will be amended or revised.
The announcement was welcomed by the Royal College of Psychiatrists, where Sir Simon was president until June this year.
New college president Professor Wendy Burn said: "We have been concerned about the rising numbers of detention and the disproportionate detentions of people from ethnic minorities and believe the underlying circumstances for this should be examined.
"People detained under the Mental Health Act are at their most vulnerable and have a right to the best possible care and support.
"We look forward to a wide consultation with patients, carers and professionals."
The number of people detained under the act rose from 48,600 in 2011-12 to 63,600 in 2015-16. Black people are up to six times more likely to be detained under the existing act, Downing Street said.
In her previous announcement, Mrs May pledged to enshrine parity of esteem for the sector through the new bill by:
revising the thresholds for detention, to prevent it from being overused;
introducing new codes of practice to reduce the disproportionate use of mental health detention for minority groups; and
improving safeguards so that when people with mental health problems have the capacity to give or refuse consent, they can never be treated against their will.
Mental health has been Ms May's personal priority in health since she became prime minister. Health secretary Jeremy Hunt has taken on the ministerial portfolio for mental health and he told HSJ in October that children's mental health services were the "biggest single area of weakness in NHS provision".