Milton Keynes and Buckinghamshire trusts developing a "stronger working relationship"
The two trusts are in separate ICS, STPs and NHS England regions
Milton Keynes chief executive says "early conversation" is "consistent" with separate health economy plans
Two hospital trusts in separate health economies are looking at the benefits of a "stronger working relationship and collaboration".
Milton Keynes University Hospital Foundation Trust chief executive Joe Harrison told HSJ there was an "early stage conversation" with Buckinghamshire Healthcare Trust about working more closely together, particularly around delivering seven day services.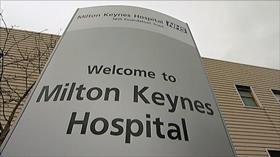 Although Milton Keynes is in the county of Buckinghamshire, it has a different unitary council and sits within a separate "integrated care system".
Some senior sources in the area told HSJ a merger between the trusts could be a future option, though a spokeswoman for Milton Keynes said this was not being considered.
The trust is part of the Bedfordshire, Luton and Milton Keynes ICS, whereas Buckinghamshire Healthcare sits within the Buckinghamshire ICS.
Mr Harrison has led Milton Keynes since February 2013, but Buckinghamshire Healthcare has not had a permanent chief executive since Neil Dardis left to lead Frimley Health FT in February.
Mr Harrison said: "As both hospitals are located in the county of Buckinghamshire and share both a tertiary centre in Oxford, and ambulance services, we are keen to explore whether there are any benefits to a stronger working relationship and collaboration.
"This is particularly in response to delivering the seven day service standards, which places increasing demands on clinical on-call rotas and resources. Buckinghamshire Healthcare Trust provides community services to a significant part of our catchment population, and patients often tell us that cross-border communication could be improved."
He said the conversations were "consistent" with their respective health economy plans.
The other two acute trusts within Milton Keynes' ICS area plan to merge next year and there have been complications in implementing a shared financial plan for the system.
Milton Keynes and Buckinghamshire Healthcare are also in separate sustainability and transformation partnerships.
Buckinghamshire Healthcare Trust and the Buckinghamshire ICS were approached for comment.
A proposed merger in the Midlands fell through in March, partly because it would have operated across two different health economies.
Source
Information provided to HSJ