Health minister Mike O'Brien has emphasised to managers the limits to which the NHS should embrace competition and choice.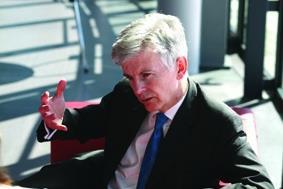 Mike O'Brien
Speaking at a Managers in Partnership reception, Mr O'Brien said primary care trusts should consider the best interests of patients and taxpayers when deciding whether to tender services, rather than bringing in "competition for its own sake".
He said: "PCTs should focus market testing and tendering where services need to be substantially improved; or where there are major gaps in capacity or services; or where new approaches are required.
"In other words, competition should be used as a means to drive up quality and productivity, not as an end in itself."
He recalled his trade union background and said competition would not involve the "wholesale commercialisation of the NHS" or "some sort of 'piecemeal privatisation'".
NHS Confederation PCT network director David Stout said managers did not need this reassurance: "People know competition, particularly of provision, has a part to play in driving up standards."
Mr O'Brien said the first stage of reform, accompanied by big funding increases, was followed by a second stage which introduced competition and choice.
The third stage involved "a relentless pursuit of quality" and high quality leadership.
He said the NHS needed leaders "who make things happen" and free up resources, reduce bureaucracy and streamline systems "for the benefit of staff and patients alike".
London School of Economics professor of social policy Julian Le Grand, who was former prime minister Tony Blair's health adviser, said he would not draw a distinction between quality and choice.
He said: "That implies the move towards patient choice wasn't about quality. I'd argue that [choice] is the best way to achieve quality, and that's what the evidence says."
He also questioned whether better leadership was enough.
"It's not clear whether this focus on leadership is an alternative mechanism for levering up quality. If it is, it's probably going down the wrong route because there's only a small number of leaders in the world."