Accident and emergency waiting time performance plummeted in April, as hospital leaders told HSJ they were grappling with the after-effects of "the worst winter anyone can remember".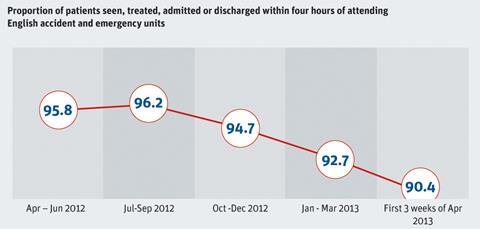 A and E performance crisis
Analysis of NHS England figures shows that in the first three weeks of 2013-14 the government's target of treating, admitting or discharging 95 per cent of patients within four hours of attendance was missed by a wide margin.
Just 90.4 per cent of patients were seen in four hours.
Analysis shows that of the 143 trusts which have major A&E units only 18 of them have hit the 95 per cent target so far this year.
HSJ's analysis of information from those trusts also shows that they appeared to narrowly miss the 95 per cent target overall in 2012-13.
Performance across the 143 trusts was 94.9 per cent. It declined through the year.
The Department of Health's formal performance summary for 2012-13 has yet to be published.
The findings follow HSJ's revelation last week that high numbers of patients have been waiting more than 12 hours to be admitted to wards in recent months.
A senior figure at one of the trusts performing worst in April told HSJ: "The system response has been fairly tough - organisations are being threatened by the centre, predominantly the NHS Trust Development Authority, and told they have two weeks to get better.
"Clearly there are some systemic issues, but overall organisations have lost grip, with poor engagement and battle-weary teams."
Another senior hospital leader told HSJ "everybody has been saying this has been the worst winter they can remember" and the resulting pressure in A&E had not abated in April.
More on the emergency care problems
NHS Confederation hospitals forum chair Mark Newbold, also chief executive of the Heart of England Foundation Trust,
said some trusts were experiencing significant increases in attendances, while others had bed shortages caused by patients staying longer than normal and difficulty discharging them.
Dr Newbold told HSJ there were discussions among senior hospital managers about whether A&E patients had become more severely ill. Performance problems could be due to an increase in frail elderly patients, he said.
He added that social care cuts had started to affect hospitals' ability to discharge patients.
HSJ's analysis shows that since the start of 2013 there have been 405,654 breaches of the four-hour target at A&E by tyep-one - the most serious - patients. In the same period in 2012 there were 269,821 and in 2011 there were 215,487. The number of type-one attendances have remained broadly the same.
Foundation Trust Network chief executive Chris Hopson, responding to HSJ's findings, said for many trusts "the existing model of urgent and emergency care is clinically and financially unsustainable".
He added: "We need three things: a new long-term model; some metaphorical string to hold the system together in the meantime; and urgent amendments to the 30 per cent marginal tariff."
Under the marginal tariff, trusts are paid just 30 per cent of the normal rate for a large amount of emergency work.
Mr Hopson said: "This has to be a whole-system response - the problem shows up in trust A&E performance targets but providers cannot solve this issue by themselves."
A DH spokeswoman, responding to the findings, said: "The fact is that compared to 2004, when the changes to the GP contract happened, we now have 4 million more people using A&E services a year. We think there are many reasons for this and access to out-of-hours care is one."
She said NHS England was carrying out a review of the future of urgent and emergency care.