A Harvard Business School professor has convinced influential figures across the world he has the 'strategy that will fix healthcare'. Ahead of a trip to Number 10, he tells HSJ what this means for the NHS and why inspection is not the answer.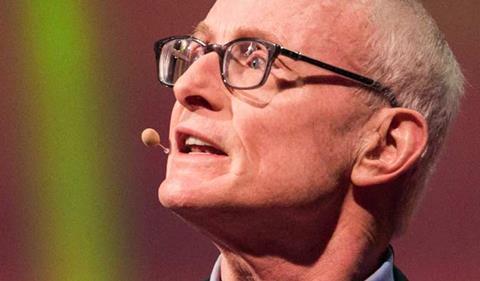 Michael Porter
Anyone skim reading Michael Porter's work on healthcare could be forgiven for assuming his ideas have already been consumed and digested by the English health service. It is peppered with language that will echo with followers of NHS wonk speak. Integration, outcomes and value all feature, as do bundled payments and service specialisation.
As NHS leaders wrestle with relating these concepts to reality, it is Professor Porter's trick of stitching them together into a coherent and persuasive whole that has made his work so appealing.
The list of those who have sought input and inspiration from this strategist-cum-guru − whose background is as a world leading authority on business and competition − includes former health minister Lord Darzi, London mayor Boris Johnson and numerous foundation trust chief executives. NHS England's chair Sir Malcolm Grant specifically arranged for the professor to speak to his board.
The prime minister's health adviser Nick Seddon is a devotee and helped arrange Professor Porter's latest trip to the UK, which will see him take part in a roundtable discussion at 10 Downing Street and a conference organised by the think tank Reform alongside numerous UK healthcare leaders.
Professor Porter's analysis is set out succinctly in an October 2013 article "The strategy that will fix healthcare" for the Harvard Business Review. Its main theme is to require all parts of a system, including overarching rules and regulations, to support the single aim of increasing value − defined as improvement in outcomes relative to cost. If value is relentlessly pursued, a sustainable and high quality health system will follow.
Regular contact with NHS leaders and staff over the past three years means that, speaking to HSJ ahead of next week's trip, Professor Porter is able to give his take on how it is shaping up.
He praises a "tremendous urgency and sense of the need for change", and says our universal state funded coverage is a "potential advantage".
The professor is equally ready to highlight shortcomings, while pointing out these are often shared with other countries.
A flipside of his obsession with value is that other priorities are seen as dangerous distractions.
For example, while Professor Porter is impressed with the NHS outcomes framework, he is bemused at the inclusion of patient experience indicators.
"Outcomes are different from patient satisfaction," he explains. "Whether people were nice to them, whether you had a nice room - that's all good stuff, but it's not an outcome. The outcome is how the patient does functionally, quality of life, complications, recurrence of disease… the actual results."
A pivotal theme in Professor Porter's work is the need to organise all services into teams for specific health conditions, which he calls "integrated practice units". He argues the NHS needs shared outcome indicators for given conditions or patient segments, rather than all of England or geographies such as commissioning groups.
He adds that there "is still a lack of clarity about who is in charge − what organisation is going to be the repository of outcomes, what process is going to define the outcomes, condition by condition, collect that data and then refine the measures".
Another charge, which will raise eyebrows ahead of Professor Porter's engagements with the health secretary, is a critique of the role of quality inspection and regulation. Strengthening these has been the preoccupation of Mr Hunt's tenure.
"I understand that when you have scandals you want to go in and top-down micromanage − to try to go and visit people and see if they're following the rules. It's not necessarily a bad thing, but ultimately it's not the way… to achieve the gains you're looking for."
Instead, he asserts, providers should simply go unpaid when they do not deliver good outcomes for individuals and "people not delivering good outcomes shouldn't get commissioned".
This "is much more effective than trying to go in and second guess and inspect. It's very hard for that to work," he says.
Professor Porter believes NHS commissioners − despite having "too much fragmentation" − will be an important driver. He pledged to do "everything I can" to encourage commissioners to contract services for distinct conditions and population segments.
He is not surprised that attempts so far have faced provider opposition, as in the case of Oxfordshire's proposal for older people's services.
"It's a natural thing to object to, [where] people that have grown up in a system where they feel they should have a contract for everything. Everybody in healthcare likes their independence and they don't necessarily want to have to collaborate with others."
He identifies several positive examples in the UK, however, including London's centralisation of acute stroke care into fewer units that dramatically reduced both mortality and cost.
This was achieved "not by some miraculous medical science… but by reorganising care into [integrated practice unit] type structures and getting patients to the right place for their condition… So much of the challenge is to organise ourselves so we can aggregate the knowledge and treatments we already have and apply them effectively and efficiently."
Professor Porter adds: "We have found organisations that have made this transition to the IPU structure, not only does value improve but the satisfaction of everybody involved goes up dramatically."
High value health systems
Michael Porter has defined six mutually reinforcing components of moving to a high value health system:
Organise into integrated practice units − teams focused on specific conditions or population types
Measure outcomes and costs for every patient − Professor Porter wants to work with Monitor to improve NHS cost data
Move to bundled payments for care cycles
Integrate care delivery − providers focusing on services they are good at, and concentrating volume
Expand excellent services across geographies
Build an enabling IT platform