NHS Clinical Commissioners warns of potential "slowing down" of access to routine care
Real value of current funding envelope set to reduce by £330m by 2019-20
Call for new government to frontload additional money promised before the election
NHS commissioners have warned that patient waiting times may need to lengthen as they seek to contain costs.
NHS Clinical Commissioners, the body representing clinical commissioning groups, has said the real value of the current funding envelope is set to reduce by £330m by 2019-20, due to inflation and adjustments for population growth.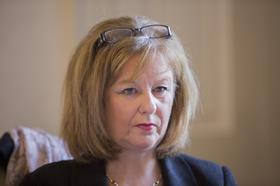 Julie Wood, chief executive of NHSCC, told HSJ: "The potential consequences will vary from area to area but could mean taking decisions about slowing down access to routine care and thus slowing down spend; it could be about looking at where services are provided, and it could be about looking at the relative priority of where the NHS spends its pound."
The organisation has called on the government to frontload additional money promised before the general election, and to make sure funds allocated for transforming services are ringfenced.
The Next Steps document published by NHS England in March suggested the national target for elective patients to be treated within 18 weeks is unlikely to be met over the next two years.
HSJ also revealed last week that leaders in some health economies were considering "unthinkable" measures to help stay within their funding envelope, including allowing waiting times to lengthen.
Andrew Pepper, chair of the NHSCC finance forum, said CCGs have had to set "significantly higher" savings plans this year to breakeven. Many CCGs failed to deliver the 3 per cent savings required in 2016-17.
He said: "We need to have a conversation [nationally] about what it means. Some of the decisions that need to be made are going to be even harder.
"Clinical commissioners are ready and willing to meet these challenges and transform healthcare for the better.
"Additional funding will help with this and we are calling on the government to ensure that the money promised in the lead up to the election is to be allocated into CCG budgets sooner rather than later.
"However, we know that this will not be enough to alleviate all the pressures on the NHS. To stop the difficult decisions clinical commissioners are making sliding into impossible choices, we need realism about what the NHS can deliver, support for local decision making and ringfenced funding for transformation."
The Conservative manifesto suggested some additional NHS revenue spending on top of that already allocated, by pledging real terms growth on a per head of population basis in each year of the parliament.
It said the NHS England revenue budget would increase by £8bn in real terms by 2022-23 but did not set out details on the phasing of this investment. This effectively extended the commitments made in the 2015 spending review by another two years.