Seventy-two trusts had recorded at least one coronavirus death on Sunday, an increase of 15 on Friday.
However, the death toll is concentrated in relatively few trusts. Thirteen organisations have reported a total of 130 coronavirus related deaths to date (see table below). Nine are in London and a tenth (Frimley) is situated near to the capital.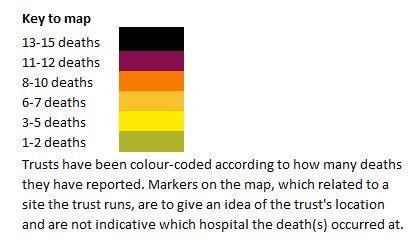 Despite this, deaths at London organisations are actually falling as a proportion of the overall total. They account for 42 per cent of the total, down from 45 per cent on Friday.
The pandemic appears to be picking up pace in the North East and Yorkshire region, which has now seen 10 trusts record a coronavirus death, half for the first time over the weekend. In the North West region, the total is 11, with Stockport — one of the four reporting deaths for the first time — recording four fatalities over the weekend.
The Midlands remains the region with the second highest number of deaths with 47. However, the South East region is now closing the gap with 39.
The East of England and South West regions remain relatively untouched — with just 24 deaths between them. However, a mini-hotspot appears to be developing at Royal Cornwall which went from zero to five deaths over the weekend.
| Region | Organisation | Number of deaths |
| --- | --- | --- |
| London | London North West University Healthcare Trust | 15 |
| London | St. Georges University Hospitals Foundation Trust | 15 |
| South East | Frimley Health Foundation Trust | 13 |
| London | Barts Health Trust | 11 |
| Midlands | Royal Wolverhampton Trust | 11 |
| London | University College London Hospitals Foundation Trust | 10 |
| London | Barking, Havering and Redbridge University Hospitals Trust | 9 |
| London | Imperial College Healthcare Trust | 8 |
| London | King's College Hospital Foundation Trust | 8 |
| Midlands | Dudley Group Foundation Trust | 8 |
| South East | Portsmouth Hospitals Trust | 8 |
| London | Croydon Health Services Trust | 7 |
| London | North Middlesex University Hospital Trust | 7 |
Source
HSJ analysis of government figures