HSJ's unique analysis shows the spread of hospital deaths confirmed as coronavirus cases to date, by area, as well as the regional growth trends.
The deaths in English hospitals of a further 108 people who tested positive for coronavirus have been reported today (1 June). The cumulative total is now 26,722.
The figures were collated between 5pm on 30 May and 5pm on 31 May, but due to the need to inform relatives and authenticate reports, many of the deaths occurred earlier than this period. It is also very likely that some deaths which did occur during these 24 hours — and before — have not yet been recorded, normally for the same reasons.
The figures do not include those who have died from the virus outside of hospital, nor those where covid-19 has not been specifically recorded as a cause.
Due to late reporting, hospital deaths data is only considered robust until 26 May. At that point, the weekly running average had declined for 45 consecutive days and, at 926, was 84 per cent lower than the peak recorded on 10 April.
Across the country, deaths are halving every 19 days.
Coronavirus deaths peaked around 9-13 April in all seven NHS England regions, except the North West – which topped out on 16 April.
Deaths in all regions had been falling steadily – and in London, rapidly. But the seven-day period to 26 May has shown a noticeable slowing in two regions and a rise in one.
Even those regions where deaths are still falling steadily were part of a noticeable cross-country pause in the decline between 22-26 May. For example, the running weekly total of deaths changed by no more than four between 22-25 May in the North West (188-191), 23-26 May in the East of England (126-128), between 24-26 May in London (73-75) and between 22-24 in the South East (113-117).
Between 12 and 19 May, the weekly total of English hospital fatalities fell by 25 per cent (1,440 to 1,074). The fall between 19 and 26 May was 18 per cent (1,074 to 884).
The biggest regional change was in the South West. Between 12 and 19 May, fatalities fell 47 per cent (68 to 36). But between 19 and 26 May they rose 17 per cent (36 to 42) and have since risen further. The rises were driven by deaths recorded in the Bath/Bristol/North Somerset area. There is no sign of growth in deaths in the peninsula (see chart one).
More significantly, in terms of overall numbers, is the change in the North West and London.
In the North West, the decrease in fatalities was 27 per cent in week one (272 to 199) and just 8 per cent in week two (199 to 183). The change was driven by a plateauing in greater Manchester and small rise in Lancashire and South Cumbria (see chart two). It is very likely that the next few days will see the North West record an increase in deaths, at least for a few days.
The region is now neck and neck with the Midlands in recording the most covid deaths.
In London, the decrease in fatalities was 42 per cent in week one (182 to 105) and 30 per cent in week two (105 to 73). This slowing was solely down to an increase in fatalities in east London (chart three). The neighbouring mid and south Essex area also saw a very significant rise in fatalities (chart four).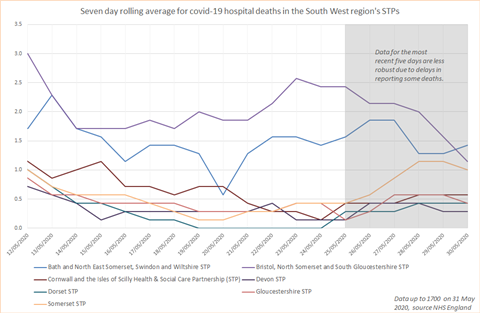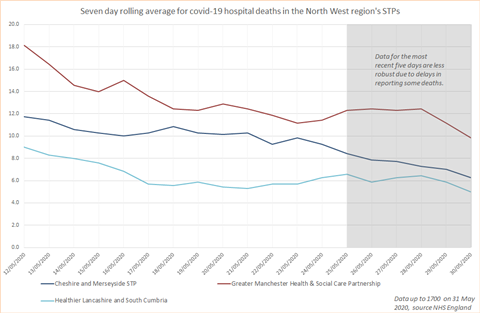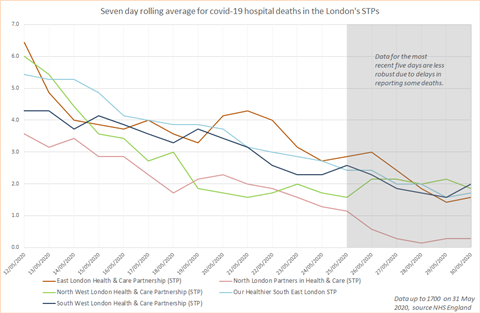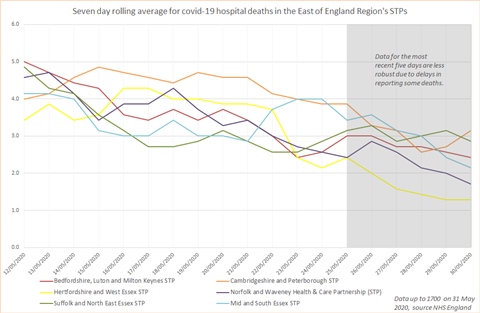 Source
HSJ analysis of NHS England's statements on reported coronavirus deaths
Decline in North West covid deaths slows dramatically
1

Currently reading

Decline in North West covid deaths slows dramatically

2

3