HSJ's unique analysis shows the spread of hospital deaths confirmed as coronavirus cases to date, by area, as well as the regional growth trends.
The deaths in English hospitals of a further 179 people who tested positive for coronavirus have been reported today (3 June). The cumulative total is now 27,045.
The figures were collated between 5pm on 1 June and 5pm on 2 June, but due to the need to inform relatives and authenticate reports, many of the deaths occurred earlier than this period. It is also very likely that some deaths which did occur during these 24 hours — and before — have not yet been recorded, normally for the same reasons.
The figures do not include those who have died from the virus outside of hospital, nor those where covid-19 has not been specifically recorded as a cause.
Coronavirus deaths peaked around 9-13 April in six of the seven NHS England regions – North West region topped out on 16 April.
Deaths in all regions have been falling steadily until recently – and in London, rapidly. But deaths are now plateauing in three regions.
The North West region of England is now reporting the highest seven-day rolling average of daily deaths. It has overtaken the Midlands region – the largest in England with a registered population of over 11 million – which has seen its average daily deaths fall by more than 10 from 21 May to 28 May. The North West meanwhile, with a population of nearly 7.5 million, has fallen by roughly 1 death over the same period.
Deaths in both regions decreased in the five days from 28 May to 2 June, however deaths in London appear to have flattened off, plateauing at a weekly rolling average of 10 deaths per day from 28 May to 2 June – the five-day window when NHSE cautions death reports are likely to increase.
Deaths in North West London have started to increase through the 28 May to 2 June window. It is the only health system in the capital to show an increase.
The capital is the second region to plateau – the South West region is also tracking on a consistent daily death rate, reporting an average of over six deaths per day.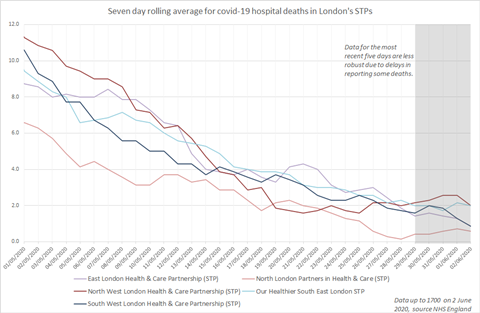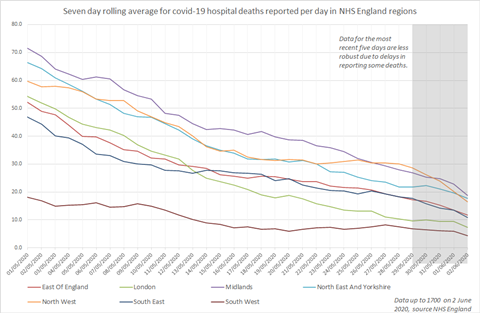 Source
HSJ analysis of NHS England's statements on reported coronavirus deaths
North West has largest number of deaths
1

Currently reading

North West has largest number of deaths

2

3