Extensive details of the clinical model for the new Nightingale Hospital in east London have been seen by HSJ — including the criteria for admitting patients and expected difficulties in transferring patients from other acute sites.
The draft model, which was completed on Wednesday, also includes a list of "unfamiliar" tasks that non-specialist nurses will encounter, such as "emergency procedures".
The document reveals:
The Nightingale will have up to 2,900 intensive care beds, and receive "lower risk" covid-19 patients from other London hospitals needing to free up capacity. There is a long list of admissions criteria which means patients who are frail and elderly, or have comorbidities, are less likely to be admitted. There will also be around 700 "step down" beds.
The project faces "significant challenges" in relation to transferring patients from other acute sites. It says up to 60 additional ambulances capable of critical care transfers will be required, but warns "blue light drivers" and qualified staff able to oversee the transfers are "rare" and already in high demand.
Some nurses are likely to be asked to perform "unfamiliar" tasks in the intensive care unit, which could include emergency procedures, such as responding to an "accidental extubation", when a breathing tube becomes dislodged.
It is anticipated "approximately 16-20 per cent of patients who arrive at Nightingale might not survive".
The staffing model will differ to that in London's existing intensive care units, with one intensive care consultant allocated to 42 patients, supported by a team of other medics.
The key aims for the Nightingale are to "reduce deaths", to be part of the wider London NHS critical care system, and "provide hope".
Senior NHS sources in the capital told HSJ there had been significant debate around the clinical model over the last week. They said the Nightingale had initially been conceived as a full intensive care unit, but critical care doctors have raised concerns about this.
One said the draft was effectively a compromise, that would mean the Nightingale provides ICU care, but only for younger or fitter patients.
It is understood the field hospitals being established in Manchester and Birmingham will follow a different model, providing only "step down" care.
The clinical model for the Nightingale will be "updated iteratively based on wider intensive care clinician input, ongoing analysis of global research, and findings from analytics and improvement teams", the draft says.
NHS England did not respond when asked to comment.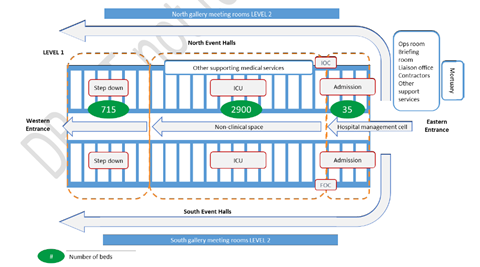 Criteria for transfer
The draft document says London's existing intensive care units should consider transferring patients to the Nightingale if they have "confirmed covid-19 related respiratory failure", and require endotracheal intubation for between one to 10 days, among other criteria.
But patients scoring above five on the clinical frailty scale, or those with complex comorbidities likely to be difficult to manage outside an existing multispecialty hospital, should not be considered – among other exclusions.
Ambulance transfers
The document says there are "significant challenges" in staffing for the project.
It says: "Blue light drivers are rare as the majority of the private ambulance service fleet made available is non blue light. At peak it is conceived that up to 60 additional critical care capable transfer ambulances will be required.
"Appropriately trained and qualified clinical staff able to facilitate critical care transfers are also a rare commodity. Their skill set is in high demand within their base hospitals as they expand ICU capacity as part of the surge and super surge plans."
Staffing
One intensive care consultant will cover 42 patients, and work in teams alongside three "intermediate doctors" (consultant, recently retired consultant, or an ST5+ in anaesthetics or with experience of ward rounds), and three further doctors (any specialty, ST2+).
One of the intermediate doctors and one of the further doctors will be available to relieve their counterparts, meaning only two of each of these doctors will be on the ward at any given time.
On nurses, it says: "As the experience levels of nursing staff at the hospital will vary, some nurses are likely to be asked to perform tasks in ICU that they are unfamiliar with and are usually reserved for critical care nurses."
These include: handover of critically unwell patients; safety checks of equipment including ventilators and nasogastric tubes; clinical patient assessments; administering and restocking medications via an infusion; using a double pump system; responding appropriately to ventilator warning alarms; donning and doffing PPE; and emergency procedures around accidental extubation.
Communication
The draft model says the acoustics of the Nightingale, which has been created at the Excel conference centre, are expected to make verbal communication difficult.
The number of ventilated patients with associated alarms, clinical teams that will not have worked together previously, staff filling roles and performing duties of which they have little or no experience, and staff working in a team structure that is novel and unfamiliar, means that "communications within the intensive care will require particular attention".
IT systems
Cerner's Millennium is likely to be used as a patient management system, which will be present in the ops room and the admissions area. The document says this will provide real time bed status and allow pre-allocation of beds.
Source
Draft clinical model