Several large hospital trusts that rejected the voluntary tariff agreement have predicted huge swings in their financial position for 2015-16.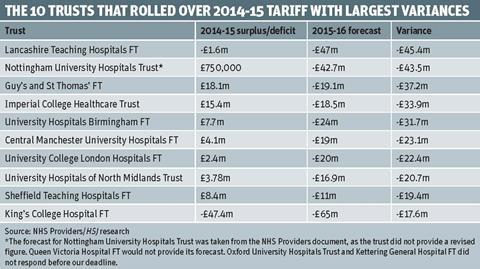 Majority of providers remaining on 2014-15 tariff predict deficits this year
Five providers expect financial position to decline by £30m year on year
TDA says it is working with trusts to finalise financial plans
Five providers that opted to roll over last year's tariff prices are each expecting their finances to plunge by more than £30m this year compared to 2014-15, according to figures obtained by HSJ.
The biggest change has been forecast by Lancashire Teaching Hospitals Foundation Trust, which expects to finish the financial year with a deficit of £47m. Last year the trust reported a deficit of £1.6m before exceptional items – a deterioration of £45.4m year on year.
The four other providers predicting a decline of at least £30m are:
Nottingham University Hospitals Trust;
Guy's and St Thomas' FT;
Imperial College Healthcare Trust; and
University Hospitals Birmingham FT.
In the run-up to the general election, a leaked NHS Providers document containing draft financial plans for 98 organisations suggested that four out of the five largest negative variances were reported by trusts remaining on last year's prices. So, HSJ asked all trusts on the rollover tariff to provide their up-to-date forecasts.
We obtained predictions for 24 of the 28 trusts that rejected the voluntary tariff, and 21 expected a worse performance than in 2014-15. The three exceptions were University Hospital of South Manchester FT, Walton Centre FT and Royal Marsden FT, which has predicted a £4m surplus. Royal Marsden's predicted position is up £3m on last year, however the trust said its 2015-16 plan includes a £4.6m Medical Research Council grant.
In March, the 28 trusts rejected the voluntary tariff from NHS England and Monitor, known as the "enhanced tariff option" or ETO, mainly because it introduced a cap on payments for specialist services.
The organisations opted to remain on last year's prices, but will not receive commissioning for quality and innovation payments, and in some cases winter pressures money could be withdrawn. The vast majority (88 per cent) of NHS providers accepted the ETO.
Lancashire Teaching Hospitals, which is currently having its finances investigated by Monitor, said it has requested "financial support".
Finance director Paul Havey told HSJ a number of factors had contributed to the deficit forecast of £47m, including changes to the tariff and failing to make £13m of efficiency savings, which have been rolled over from 2014-15.
He added: "We have also experienced significant budget and service pressures, including investment in extra nursing, and the costs of escalation and increased demand for urgent care which has resulted in additional spending of £13.4m. Inflation and tariff changes will incur a further cost of £6.2m."
The remaining £14m related to further efficiency targets for this year, which the trust does not believe it can deliver. It delivered £10m of efficiency savings last year.
Guy's and St Thomas' said it will lose £20m in CQUIN payments this year, and £12m in "Project Diamond" funding, which was previously paid to some trusts for highly specialist treatments.
A trust spokesman added: "Contract negotiations with NHS England for 2015-16 are continuing. We are also working with Monitor and NHS England in establishing tariffs which adequately reflect the costs of complex care for 2016-17.
"The trust will determine during 2015-16 how to address the new pressures when it becomes clear whether they are going to fully materialise and whether they are recurring or mitigated by proposed future tariff changes."
HSJ reported last week that the entire NHS trust and FT sector reported a deficit of £822m in 2014-15.
But the figures collected in the NHS Providers survey suggested the deficit could double this year, as the 98 trusts that provided draft figures - less than half the sector - forecast a total deficit of £759m.
A spokesman for the NHS Trust Development Authority, which oversees non-FTs, said: "We are still working with trusts to finalise their financial plans for this year and the final position will be published in due course.
"However, we are not complacent and we know that some trusts are facing serious, longstanding financial challenges. There is not going to be a one size fits all solution to this."
Monitor, which regulates FTs, said applications for extra funding would have to go to the independent trust financing facility, which advises the Department of Health.
A DH spokesman said: "We know the NHS is busier than ever and trusts are facing challenges. However, we expect them to show tight financial grip and live within their means. We have backed the NHS's own plan for the future by committing to invest the £8bn needed to deliver it."
This story has been updated after we obtained revised outturn figures for Nottingham University Hospitals Trust, as well as revised outturn and forecast figures for University College London Hospitals and Sheffield Teaching Hospitals.