Use of accounting adjustment has increased dramatically as NHS has sought to improve headline financial performance
The revaluations do not produce real savings and in some cases cost money
CIPFA says it demonstrates that public bodies "should not set their own accounting rules"
NHS trusts are increasingly revaluing their estate in a way that boosts their reported financial position, under encouragement from NHS Improvement. This is despite the "wheeze" saving the health service no money overall.
The complex accountancy adjustment involves revaluing a trust's estate in a way that assumes services could theoretically be consolidated to a cheaper "alternative site".
This results in a lower "book value" within the accounts, which boosts their revenue position by reducing the charges applied to their estate.
Trusts have been able to use these revaluations for around ten years, but their use has increased dramatically over the last two years, as the Department of Health and Social Care has desperately sought to remain within its spending limit.
The adjustments improve the department's headline financial position but are purely accountancy based and do not produce real cash savings for the overall health budget.
The revenue benefits generated for trusts overall is not known, although University College London Hospitals FT improved its position by around £6m using the technique, while the bulk of a £6m benefit at Central Manchester University Hospitals FT was also related to a revaluation.
However, the cash savings are circular - they simply shift money within the national health budget. Benefits arising from lower "depreciation" charges also help boost the headline financial position, but do not represent a real cash saving.
Some trusts have paid specialist consultancy firms to undertake the revaluations, which can cost around £40,000 per trust, meaning there is an overall negative impact.
According to a letter seen by HSJ from January 2016, NHS Improvement instructed trusts to undertake these revaluations "where advantageous" for the headline deficit figure reported by the trust sector (and therefore the DHSC position).
Since then, there has been a dramatic increase in "impairments" to land and property, which is the accounting entry which includes the revaluations.
According to DHSC accounts, net impairments to land and property have risen to £2.5bn in 2016-17, up from £2.1bn in 2015-16 and £1bn in 2014-15. These figures also include other types of impairment.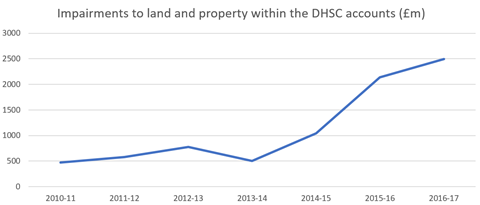 HSJ has spoken to several NHS finance directors who feel uncomfortable with some of the adjustments. One said they have been pursued to "window dress" the trust sector deficit, while another described them as a "legitimate wheeze".
Rob Whiteman, chief executive of the Chartered Institute of Public Finance and Accountancy, said the adjustments should only be "chosen to best reflect fair value" and not with the intention to improve the reported surplus or deficit. He also suggested that accounting standards deployed by the NHS and DHSC are less effective than other sectors, because they are not set independently.
He told HSJ: "Firstly, the asset valuation method should be chosen to best reflect fair value and not for the utility of treatment to minimise (revenue spending) or release revenue resources."
"Secondly, it demonstrates that bodies should not set their own accounting rules. The system for local government, policing and charities, where CIPFA independently sets accounting standards, provides a far more robust framework."
While most NHS trusts have used the government's district valuer services to conduct their revaluation, some have used specialist firms such as Montagu Evans. Chelsea and Westminster FT, which paid the firm £41,000, told HSJ that the revaluation reduced its capital charges to the DHSC by around £4m. The Royal Free London FT also used the firm.
Meanwhile, concerns have also been raised that some revaluations could result in unrealistic accounting assumptions that could lead to cash shortages in the future, due to the reduced depreciation charges.
Trusts contacted by HSJ stressed they had followed the relevant accounting guidance in undertaking the revaluations, and that auditors had approved them. DHSC and NHS Improvement did not respond. Nor did the Healthcare Financial Management Association.
Although public bodies all use the "government financial reporting manual", which provides guidance on applying international accounting standards, different sectors then produce their own technical guidance beneath this. While the standards for local government are set independently, the DHSC sets the guidance for the NHS, with oversight from the Treasury.
More trusts using estates 'wheeze' to boost their finances
1

Currently reading

More trusts using estates 'wheeze' to boost their finances

2