A small trust in Warwickshire is driving an increase in covid-related deaths in one of the West Midlands health systems.
The deaths in English hospitals of a further 35 people who tested positive for coronavirus have been reported today (2 July). The cumulative total is now 28,794.
The figures were collated between 4pm on 30 June and 4pm on 1 July, but due to the need to inform relatives and authenticate reports, many of the deaths occurred earlier than this period. It is also very likely that some deaths which did occur during these 24 hours — and before — have not yet been recorded, normally for the same reasons.
The figures do not include those who have died from the virus outside of hospital, nor those where covid-19 has not been specifically recorded as a cause.
Due to late reporting, hospital deaths data is only considered robust until 26 June.
The national rolling weekly total stood at 287 on 26 June, 95 per cent lower than the peak recorded on 11 April.
The week to 26 June saw the first rise in the national rolling weekly total since early April. This had fallen for 73 consecutive total until the 24 June saw a small rise.
As a result the daily rate of decline in the weekly total has also slowed from 5.7 per cent on 19 June to 2.5 per cent on 26 June.
Coronavirus deaths peaked between 9 and 13 April in all seven NHS England regions. London and the South West have seen coronavirus hospital deaths virtually disappear.
In contrast deaths in the Midlands nudged up from a weekly total of 83 on 19 June to 89 on 26 June, before falling away steeply afterwards.
Coventry and Warwick sustainability and transformation partnership has seen the number of covid-19 hospital deaths triple over the same period with seven reported in the week to 19 June, rising to 21 for the seven days to 26 June.
This dramatic increase is due to a surge in reported deaths at a single trust. Nineteen of the 21 covid deaths were reported at George Eliot Hospital Trust, a small acute and community provider serving a population of around 300,000. It reported six covid deaths between 13 June and 19 June.
The rise in deaths follows the familiar concatenation of a rise in cases - this time from a community outbreak in the Warwickshire North area of the trust's catchment - to a rise in admissions and subsequently some deaths, the trust chief executive explained.
The increase in admissions increases the risk of infections happening within the hospital trust and the trust found approximately 16 per cent of cases in late May through into June were highly likely to be hospital-acquired.
Just as concerning are the eastern and south eastern regions, where deaths are creeping up after 26 June. Death figures recorded in the previous five days are usually adjusted upwards.
The Kent and Medway STP makes up the majority of reported deaths in the South East region, making up 27 of the region's 35 deaths between 20 June and 26 June. Twenty-two of those deaths were reported at East Kent Hospitals University Foundation Trust.
Greater Manchester continues to record most deaths out of the country's 42 STPs, with its weekly running total rising from 32 on 19 June to 35 on 26 June.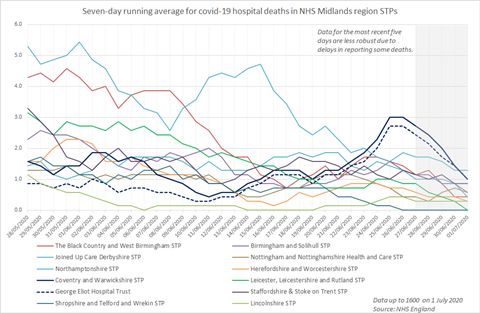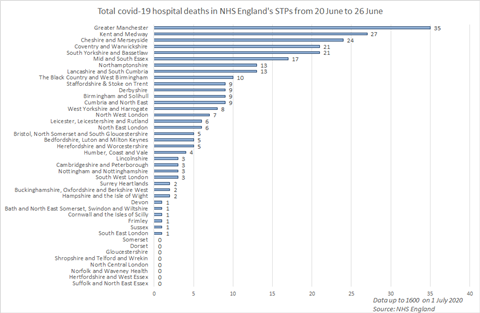 Source
HSJ analysis of NHS England's statements on reported coronavirus deaths
Trust sees covid deaths triple in a week
1

Currently reading

Trust sees covid deaths triple in a week

2

3