Benchmarking data used by NHS regulators has shown which health regions are set to receive the largest budget increases over the next four years.
A presentation slide used by NHS Improvement at a recent event shows which "sustainability and transformation partnerships" are furthest away from their target funding allocations (See attached).
It uses the net of CCG allocations within each STP.
Most of these "behind target" areas will be in line for larger funding increases, as part of NHS England's policy to bring local commissioning bodies further towards their target allocation.
The document, obtained by HSJ, shows the five STPs furthest below their target allocation are Buckinghamshire, Oxfordshire and Berkshire West; Milton Keynes, Bedfordshire and Luton; Northamptonshire; Surrey Heartlands; and Bath, Swindon and Wiltshire.
All of these areas received above average budget increases in 2016-17, except Surrey Heartlands.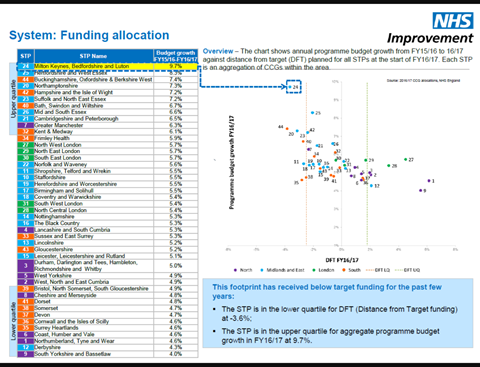 The five STPs furthest above their target allocation are: Northumberland, Tyne and Wear; South Yorkshire and Bassetlaw; North West London; North Central London; and Derbyshire. These areas will largely be in line for low funding growth.
However, the two London regions received average growth last year, while the others received low growth.
The slide shows that all but one STP in the north of England is above its target allocation.
There has long been debate over the way funds are allocated to NHS commissioning areas, and the weighted that should be given to factors such as deprivation.
There appears to be some correlation between those STPs which are furthest behind their target allocation, and those which have the deepest financial problems. But there are some notable exceptions, such as Buckinghamshire, Oxfordshire and Berkshire West.
The slide was used by NHSI as a recent provider sector update, as part of a summary about available STP data. The summary used the data pack for Milton Keynes, Bedfordshire and Luton as an example.