CQC job advert for national guardian will be for minimum of three days a week
Previous guardian resigned after two months because she was unable to balance role with other job
Sir Robert Francis says many local guardians are not what he "envisaged" in whistleblowing review
The Care Quality Commission may still recruit a part-time national guardian for NHS whistleblowers, even after the previous guardian resigned because she was unable to balance the job with another role.
The news came as Sir Robert Francis warned that many local guardians being appointed by trusts to protect whistleblowers were not what he "envisaged" in his Freedom to Speak Up review.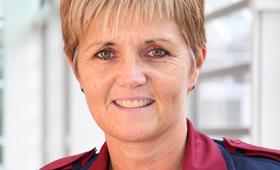 Earlier this month Dame Eileen Sills resigned as national guardian after just two months in the role.
She said it had become clear it was "not possible" to combine the office with her role as nursing director at Guy's and St Thomas' Foundation Trust.
When her two day a week appointment was announced it was criticised by some prominent whistleblowers.
However, at the CQC's board meeting this week, chief executive David Behan said a part time guardian was still being considered.
"When we set out the last time to recruit, the advert said three or more days, so we set off not necessarily thinking this was five days, so the arrangement with Eileen wasn't a retreat from that it was something we expected," he said.
He said the three day requirement would be kept in the job advert for Dame Eileen's successor, because the key issue was about "looking for the best person".
"I think the issue is not the amount of time they're going to do the national guardian [role], it's what else are they doing?
"It may well be that three days [by] somebody who's retired – where there's not a competition for time – and they're the best person for the job, that we could end up [with] that," he said.
Mr Behan stressed that while the CQC is the "host" for the national guardian, the selection and appointment of Dame Eileen had been "shared jointly" with Monitor and the NHS Trust Development Authority.
He said it would take "probably five or six months" for a new national guardian to be appointed.
The national guardian was a recommendation of Sir Robert Francis' review into whistleblowing. The office will be responsible for spreading best practice on treating whistleblowers, supporting a network of "local guardians" in trusts, and highlighting cases where those raising concerns have not been properly dealt with.
The office is formally due to come into being in April, and Dame Eileen had said she wanted to start receiving cases from whistleblowers in October. It is not clear whether this deadline has been affected by her resignation.
Sir Robert, who is a CQC non-executive director, said people had not "yet been persuaded" that the national guardian would be independent.
He also expressed his "anxiety" about the "variety of approaches" trusts were taking to create local guardians.
"I certainly get feedback suggesting that it's not exactly what might have been envisaged when I made the recommendation, if I can put it politely."
He suggested that in future the CQC might look at local guardians during inspections.