Acute trust forms part of consortium which wins contract
CCG "delighted" with integrated nature of group's bid
Recent improvements made to 111 service after 'inadequate' rating in 2016
Commissioners have awarded a £48m contract for out of hours GP and 111 services to a consortium of public and private providers including an acute trust. 
The contract has been given to Royal Cornwall Hospitals Trust, Kernow Health Community Interest Company and Vocare, following a decision by Kernow Clinical Commissioning Group.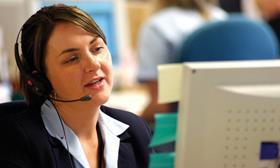 It covers Cornwall and the Isles of Scilly, which has a population of 550,000.
The trust will formally hold the contract, with Kernow CIC leading the services and Vocare providing most of the staff.
Kernow CIC is a not for profit, GP owned provider, while Vocare delivers out of hours GP and urgent care services across England, including in the North East, Yorkshire, and Leicestershire and Rutland.
The five year contract is worth a total of £48.4m, and the new services will be launched on 1 December.
The consortium was told of the CCG's decision just before the general election was called, but the announcement was delayed due to purdah.
Rob White, the CCG's clinical lead for urgent and elective care, said he was "delighted" that the contract was awarded to the consortium.
"We didn't know if there would be an integrated form of bid coming in," he said.
"It's fantastic to see providers taking on the challenge of working together to align their pathways."
Vocare's headquarters are in Newcastle, but Dr White said most of the 111 call handlers would be based in Taunton.
"Our new integrated NHS 111 and GP out of hours service will be provided by a team of doctors, nurses, and specialist clinicians," he said.
He said the consortium will align computer systems in a bid to stop patients having to give the same information to medical staff more than once.
According to the CCG the bid was supported by Cornwall Partnership Foundation Trust, which runs the county's network of minor injuries units.
Toby Slade, clinical director for emergency care at Royal Cornwall, said: "We firmly believe that locally managed and truly integrated 111 and GP out of ours services will help to address the bottlenecks in urgent and emergency care."
The trust has long struggled against the four hour A&E target – having not met the target in the last four years. It achieved 74.3 per cent for type 1 A&E departments in the final quarter of the 2016-17 financial year.
The CCG refused to reveal details of other shortlisted bidders, but a spokeswoman confirmed that a competitive tender process was held.
The 111 service in Cornwall and the Isles of Scilly has been provided by South Western Ambulance Service FT since 111 was established nationally in 2014.
Two years ago the ambulance trust said it would stop providing the service in Cornwall and Devon by March 2016 because its operating model was "unsustainable", though the CCG extended the trust's contract.
The Care Quality Commission rated the service as inadequate in March 2016, but this was upgraded to requires improvement after a subsequent inspection.
GP out of hours services in the county are currently provided by Cornwall Health, which is a joint venture between Kernow CIC and GP owned social enterprise Devon Doctors.
Source
CCG statement; information provided to HSJ