Merging CCGs in Birmingham and Solihull will devolve functions to new models of care
Separate board will manage Birmingham in tandem with Sandwell and West Birmingham CCG
CCGs expect to cut running costs by nearly a quarter
A merger of three clinical commissioning groups would streamline commissioning across Birmingham and Solihull with some functions shifting to accountable care organisations.
Birmingham CrossCity, South Central and Solihull CCGs have published their first detailed merger proposal, which would create the single biggest CCG in the country by April next year.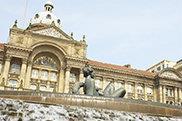 The proposal is out for consultation and will need to pass several tests, including GP members' and NHS England approval, if the merger is to proceed.
The merger relies heavily on the emergence of new care models across Birmingham, such as accountable care organisations, which are only at very early stages of development.
Under the plan, the new Birmingham and Solihull CCG will have a single budget under a shared senior leadership team. The three CCGs already share a joint commissioning board, chaired by Rhod Mitchell, which approved the merger proposal earlier this month.
The new CCG will cover a population of 1.3 million and have a budget of £1.7bn.
The CCGs' proposals consider several options, such as retaining the current model or having a separate Solihull CCG, but argue in favour of a full merger.
Mr Mitchell said: "We feel that a single commissioning organisation would provide a consistent view across both Birmingham and Solihull, regarding the principles and development of new models of care. The CCGs would become a more strategic and stronger commissioner, speaking with one voice, in line with the development of accountable care systems."
This proposal predicts the merger would reduce the CCGs' running costs by 23 per cent – or £5.9m.
These savings would be achieved through sharing functions currently provided by the three CCGs separately, but also by devolving staff and functions to new models of care.
Initially, this would include new local multispecialty community providers and primary and acute care systems, which would evolve into ACOs.
The shift would leave a single "small strategic commissioning organisation" focused on managing new care models contracts, population health outcomes and system oversight.
"We believe that this proposal creates the footprint necessary for oversight of likely local MCPs and PACS, and to have the right critical mass to discharge the new, more strategic commissioning function," the proposal document said.
Birmingham and Solihull's provider landscape is undergoing significant reconfiguration but new care models, particularly those involving acute services, are still at an early stage.
The Modality multispecialty community provider vanguard in Birmingham – which involves the eponymous GP "super partnership", Sandwell and West Birmingham Hospitals Trust, and Birmingham Community Healthcare Trust – is the most advanced and well regarded new care model in Birmingham and Solihull.
While not an MCP, Forward Thinking Birmingham's child, adolescents and youth adults mental health contract is based on a "unique" consortium, led by Birmingham Woman's and Children's Foundation Trust.
The Birmingham and Solihull sustainability and transformation partnership also supports the development of more MCPs, but HSJ understands there have been no formal moves for creating additional MCPs or PACS in the patch.
While a single Birmingham and Solihull CCG would provide more unified commissioning voice, it will still have to contend with historical boundary issues in west Birmingham, which is covered by Sandwell and West Birmingham CCG.
To rectify this fragmentation, the merger proposal suggests creating a joint commissioning board for all Birmingham, which would include representatives for the new merged CCG and Sandwell and West Birmingham CCG.
"This board would have the full population based commissioning budget [for all of Birmingham and Solihull] to direct," the proposal said.
Consultation on the merger proposal closes on 18 August.
Source
Merger proposal document and information provided to HSJ