Bristol, North Somerset and South Gloucestershire CCGs will ask GPs to vote on merger next month
Comes as CCGs race to achieve £83.2m savings target for 2017-18
Concerns Bristol funding will be used to prop up financially challenged neighbours
Three clinical commissioning groups that cover one of the most financially strained health economies in the country have proposed a full merger as part of a wider reconfiguration of services.
A statement for Bristol, North Somerset and South Gloucestershire CCGs confirmed plans for a formal merger on Friday. Together, the merged organisation would have a combined health budget of £1.15bn.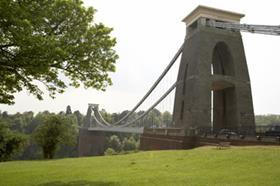 "In light of our progress so far, and the potential benefits of even closer integration, we now feel that the next logical step would be a formal merger of our three organisations," the statement said.
The proposal is unlikely to come as a surprise with suggestions as early as September 2016 of a move towards a "single commissioning voice".
The CCGs already run a joint commissioning board with a single chief executive, Julia Ross. Ms Ross was appointed earlier this year to lead a turnaround of the organisations that preside over one of the most financially challenged health economies in the country.
The region's sustainability and transformation partnership, which covers the same footprint as the CCGs, was one of only five STPs rated in the lowest category by NHS England in July. Two of three, North Somerset and South Gloucestershire, are in financial special measures and were rated inadequate by NHS England.
Together the trio of CCGs have committed to delivering £83.2m of savings in 2017-18, to reach a combined deficit of £8m.
However, they have also identified a "residual risk" of not delivering £22.5m in savings in year and, recent board papers show, Ms Ross has been talking to NHS England about "what realistic targets will be achieved this year".
The CCGs' combined operating plan, which is currently out to consultation, has identified a wide range of savings schemes to meet the target.
These include: cutting provider subsidies outside payment by results contracts; reducing access to some treatment such as IVF for woman over 35; and redesigning services such as maternity and emergency care.
However, the proposed merger has has been criticised.
South Bristol MP Karin Smyth said the merger was another disruption for the area's health service and one that not been subjected to sufficient public scrutiny.
The Labour MP said she was particularly concerned about funding allocations, and whether money for Bristol patients would go towards propping up deficits elsewhere.
"We now head into yet another local reorganisation with all the uncertainty this causes, an expensive consultation about structures not services, and then rebranding," she said.
"Why not just agree to work together and put the time and money into developing and improving services and making the changes that are needed?"
Mark Corcoran, who chairs the Avon local medical committee, said there would be legitimate concerns about resource allocations and a "Bristol-centric" approach among some GPs.
However, the merger was probably "inevitable" and, with the CCGs' serious financial problems, a united commissioning voice could provide a more coordinated delivery of health services, he said.
"One of the problems the CCGs have now is maintaining continuity in their negotiations with trusts," Dr Corcoran said.
The CCGs' statement said the new "stronger, clearer and more consistent" organisation would retain the infrastructure to "stay close to local people and GPs" while benefiting from the economies of scale of merging.
"Operating a single administrative and governance function would enable us to focus more of our people and resources on delivering improved services and better patient experience," it added.
The merger will go to a GP member vote in September.
Source
Interviews; information provided to HSJ; board papers
Source date
18 August 2017