Review finds Bristol community mental health services had gaps in care that "may well have been life threatening"
Introduction of "system leadership" care model linked to disruption of care
Review of 26 suicides or attempts finds "collective failings" of care in several cases
Disruptions linked to a new care model for Bristol community mental health services "may well have been life threatening", a review into patient suicides and self-harm has found.
Bristol Clinical Commissioning Group has published a summary of an independent review of 26 suicides or attempted suicides between September 2014 and December 2015 of people in contact with the city's community mental health service.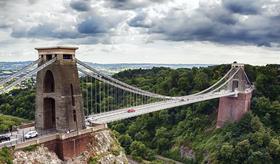 The review covered a period when services were being restructured into "system leadership" model, with Avon and Wiltshire Mental Health Partnership Trust partnering with a consortium of voluntary organisations, known as Recovery Bristol Partnership. It was written by consultancy Caring Solutions UK.
As well as identifying "collective failings" in the care of some patients, the review found staff and service disruptions linked to the introduction of new model "had effects on service users".
"Some service users or would be service users were not allocated for a period of several months and this may well have been life threatening. Several service users went unassessed for several months," the review said.
While more staff have since been hired, the review said it was still "not clear if the right skill mix is in place in the units and teams that were severely disrupted by the introduction of the new model".
Despite these failings, the number of suicides was in line with "what would be expected" based national and local rate, the review said.
A joint statement from Bristol CCG and Avon and Wiltshire Partnership said the trust had since completed a "skill mix" review of its service and agreed "to make changes to the skill mix and configuration of the teams".
Changes had also been made to make leadership of all Bristol mental health services to make them "more robust".
"These changes are underway but will increase the role of the CCG in overseeing the system as a whole.
"The CCG commissioned the report to ensure that as a system we were doing all we could to ensure the quality of local services and minimise any risks to service users," the statement added.
The review also highlighted concerns about the introduction of new models of care for mental health services that have been introduced in some parts of the NHS.
Last month, a coroner investigation into the suicide of 20-year-old Leah Abby Ratheram in Birmingham criticised under-25s mental health services in the city for "no coordination of care at a time of crisis".
Ms Ratheram had previously been cared for by the Birmingham and Solihull Mental Health Trust's rapid assessment team and was referred to Forward Thinking Birmingham, a consortium of providers set up in 2015.
Recovery Bristol Partnership, originally called Mental Health Bristol, was established in March 2014, when Bristol CCG awarded the community mental health contract to 18 organisations under a first of its kind system leadership model.
Avon and Wiltshire Partnership Trust was responsible for leading and delivering most of these services in conjunction Recovery Bristol Partnership, a group of nine voluntary sector organisations.
The model was established partly in response to discontent with Avon and Wiltshire's existing service and a critical report into the care of two mental health patients who went on to commit homicides in 2007.
Speaking to HSJ in November 2014, Melanie Corish, then programme director of Modernising Mental Health at Bristol CCG, said the shift had moved power from a "big NHS juggernaut to a locally designed and delivered service".
However, the CCG's review concluded that introducing the new model caused a "significant number of disruptions".
The review did not say whether these continued during the period when the suicides being examined took place or whether the was a causal link between them.
But it did find that staffing levels suffered after the changes, with emergencies putting "teams under great strain" and in some cases preventing them from providing "an equal standard of care to all service users".
In some of the suicide cases, staff failed to carry out routine tasks and the "quality of care planning and risk management was not as good as it should have been".
Specifically: seven day checks were missed even for high risk patients newly discharged from inpatient care; medication coordination and care planning was poor; and patient information was often not fully shared between providers.
The review made 16 recommendations, including 10 related to Avon and Wiltshire Partnership.
These included ongoing monitoring of the impact of the new model of care; standardising electronic information sharing; requiring the trust to rewrite its suicide prevention strategy; and requiring the trust to "strive towards a patient safety culture".
In its written response to the review, the trust said the review provided a "degree of assurance regarding the number of suicides", but did highlight "well known concerns regarding fundamental aspects of care" and patient safety.
The trust and CCG accepted all but one of the review's recommendations.
Source
CCG and trust board papers and statement