Clinical commissioning groups in south Staffordshire are considering a clampdown on community pharmacies ordering prescriptions on behalf of their patients, following a spike in spending on prescription items.
Cannock Chase, Stafford and Surrounds, and South East Staffordshire and Seisdon Peninsula CCGs plan to save almost £1m in 2016-17 by cutting down on medicines wastage through third party ordering.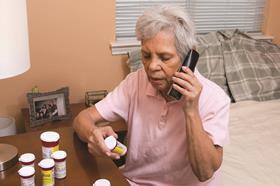 The CCGs will run an audit of GP practices from May to establish where over-ordering is happening, in order to deliver £920,000 in quality, innovation, productivity, and prevention savings next year.
The commissioners cite an initiative last year by Luton CCG, which greatly down reduced third party ordering after it also noticed sizeable increases in prescription orders.
In many areas third parties, particularly community pharmacies, can order repeat prescriptions on behalf of patients and carers.
However, local commissioners have raised concerns that this has led to medicines wastage and patient safety issues, with pharmacies and home delivery companies not always asking patients for their consent before reordering.
NHS England estimated last June that £300m of NHS prescribed medicines are wasted every year across the UK. While there are some local initiatives targeting medicines wastage, there are no national programmes.
Documents presented to Cannock Chase CCG's governing body meeting last month said: "During 2015-16 the [CCG's] medicines optimisation teams have seen a large growth in prescription items.
"Based on soft intelligence from general practice it is suspected [that] third party ordering, ie: medication ordered on behalf of a patient, may have led to an increase in prescription requests.
"In 2015-16 Luton CCG noticed a similar issue and after auditing they implemented a ban on third party ordering – leading to one of the lowest growths in prescribing costs across England.
"[We will] undertake a similar exercise to Luton CCG, however to also encourage pharmacies and practices to identify patients suitable for repeat dispensing."
Luton CCG last year told patients that drugs could only be ordered by their community pharmacy "in exceptional circumstances".
A spokesman for Luton CCG said it did not agree with the characterisation of its changes as a "ban", but said that changes had resulted in the body having the lowest prescription items increase out of a cohort of 166 CCGs last year.
He said: "[We] became aware that there was considerable medicine wastage and concerns of patient safety generated mostly through inefficient repeat prescription ordering systems in community pharmacies.
"Luton practices utilised CCG produced resources to inform their patients of all the ways medicines can be ordered by themselves or their carer, friend or family and only their community pharmacy in exceptional circumstances."
The spokesman would not reveal the financial value of the savings it has made, but said the CCG was preparing to publish the outcomes from its initiative in coming months.
Samantha Buckingham, pharmaceutical adviser at Stafford and Surrounds and Cannock Chase CCGs, said: "We know that nationally there is a significant problem in regular medications being over-ordered and this can be down to a number of factors including patients not managing their medications effectively enough and third parties (including community pharmacies) ordering on behalf of patients.
"We are looking to undertake audits in practices to identify where over-ordering is occurring and to try and establish the cause of this.
"Based on these audit findings we will be looking at the processes locally of the management of repeat prescription ordering and supply."
Source
Cannock Chase CCG board papers and information provided to HSJ
Source date
26 February 2016