Two senior clinical commissioning group leaders have stepped down, and the CCG is being investigated by NHS England, it has emerged.
The investigation relates to conflict of interest and processes at Crawley CCG, HSJ was told.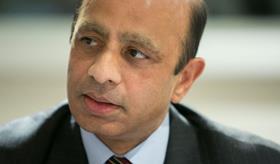 A spokeswoman for NHS England South said: "In line with our assurance role to ensure good governance within CCGs, we have commissioned an independent investigation by Verita in relation to NHS Crawley CCG.
"The investigation is underway and it would be inappropriate for us to comment further."
Chief clinical officer Amit Bhargava and CCG chair Alan Kennedy have stepped down.
Dr Bhargava said the investigation was not the reason for his decision to retire from the role, which was to make way for new leadership. He said he would cooperate with the investigation and he had not acted wrongly.
The CCG said in a statement it had "with regret, last week accepted [Dr Bhargava's] resignation".
It added: "Dr Bhargava has led the CCG as a member of the governing body and executive group since April 2013 and has been fully committed to improving health policies, clinical pathways and population health and wellbeing in the town… He will continue to practice as a GP in Crawley with Southgate Medical Group."
The CCG is "working with NHS England on interim arrangements for a new accountable officer".
Peter Nicolson, a governing body lay member, has become interim chair.
The CCG was rated inadequate and placed in special measures last week, having last year been rated "good". It recorded a £6.8m deficit in 2016-17 and the sustainability and transformation partnership it is a part of – Sussex and East Surrey – was one of five given the lowest rating by NHS England last week of "needs most improvement".
In his resignation letter, Dr Bhargava said: "The NHS faces big challenges, with the need for new partnerships and collaborations, and it is right that the leadership is also new and takes charge of its destiny to create a great future."
Mr Nicolson said: "Dr Bhargava has led the CCG and its predecessor organisations with distinction and has pioneered work that has achieved national recognition and success. He has been instrumental in championing ways of helping people live well with dementia, assisting those who suffer mental health crises, and has done much to help the homeless and tackle the causes of social isolation."
In a subsequent statement on 26 July, a CCG spokesman told HSJ: "It was announced last month (June 2017) that due to unforeseen circumstances the lay chair for NHS Crawley CCG, Alan Kennedy, would be absent for the foreseeable future.
"The CCG then designated Peter Nicolson as acting lay chair in order to ensure that we can continue to fulfil our statutory duties. Yesterday (25 July 2017), the CCG accepted Mr Kennedy's formal resignation."
Updated 27 July to reflect new statement from the CCG about Mr Kennedy
Source
CCG and NHS England statements