IRP rules there will be no full review of Croydon CCG's decision to cut services
Move to reduce number of funded IVF cycles to zero
Decision expected to save £829,000 as part of £36m savings plan
The Independent Reconfiguration Panel will not carry out a full review of a clinical commissioning group's decision to cut funding for IVF services.
The panel, which issues advice to the health and social care secretary on changes to services, has decided not to carry out a full investigation into Croydon CCG's decision to cut funding for IVF and other fertility services.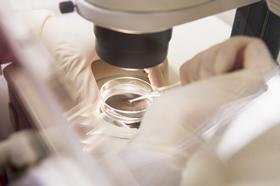 The south London CCG, which was given legal directions by NHS England in 2014 and is undercapitated for its population need, cut the number of IVF cycles it funds from one to zero in 2017-18.
National Institute for Health and Care Excellence guidance says people are entitled to three cycles but most CCGs only fund one.
Croydon CCG will still allow people to access one cycle if they are deemed to have exceptional circumstances.
NHS England London would not confirm how many cycles the different London CCGs offered.
In a letter to Jeremy Hunt setting out the reasons for not carrying out a full review, IRP chair Lord Ribeiro said Croydon's "decision to reduce access was made for solely financial rather than clinical reasons".
But he added that "for some time" it has faced a "significant" legal challenge, as well as a cumulative deficit of £54.5m going into 2017-18.
He said: "In this climate, it is inevitable that difficult decisions have to be made in terms of access and funding [and] the panel accepts that the CCG has a responsibility to achieve financial balance."
This financial year, the CCG was charged with making £36m in savings from its budget of £482m. Cutting IVF cycles to zero is expected to save £829,000.
The CCG said since the decision was taken it had not had any applications for IVF funding through the individual funding request process. It said it had 16 requests for fertility preservation in the first three quarters of the year, 12 of which were successful.
Croydon South MP Chris Philp told HSJ the IRP's decision was "very disappointing" and said he would lobby further.
Clinical chair of Croydon CCG Agnelo Fernandes said: "Our decision last year to fund IVF only for those with exceptional clinical circumstances was one of the hardest decisions of my professional career.
"As the IRP has highlighted, it is our role to look at the entirety of health needs across the borough and we have a statutory duty to prioritise the limited resources we have available to us. We remain committed to keeping our decision under review in the light of the CCG's overall resource position."
Source
IRP letter; CCG and MP statements