Leicestershire commissioners agree plans for joint decision making
Three CCGs are in STP patch hit by unrest over potential accountable care system
System faces funding gap of almost £400m
Three clinical commissioning groups in Leicestershire have ruled out merging as it would be "an unwelcome distraction".
East Leicestershire and Rutland, Leicester City and West Leicestershire CCGs are planning closer collaboration in system wide commissioning as the area faces a funding gap of almost £400m.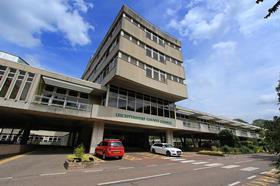 HSJ revealed yesterday the unrest between local government and NHS organisations over the progress towards an accountable care system for Leicester, Leicestershire and Rutland.
At an East Leicestershire and Rutland CCG governing body meeting last week, chairs, clinical vice chairs and managing directors from all three CCGs had a "very positive and constructive discussion" to move towards a "virtual LLR-wide team".
In a report to the governing body, East Leicestershire and Rutland chair Richard Palin said: "We do not plan to formally merge or reorganise the staff within our organisations/offices as we think this would be an unwelcome distraction."
Several CCGs across England are pursuing closer collaboration or full mergers to progress sustainability and transformation plans and more integrated working.
In August, Bristol, North Somerset and South Gloucestershire CCGs confirmed plans for a merger covering one of the most financially strained health economies in the country.
Scarborough and Ryedale, Harrogate and Rural District, and Hambleton, Richmondshire and Whitby CCGs are considering a joint committee to create a "single commissioning voice" for north Yorkshire.
Four CCGs in Nottingham have appointed a single accountable officer in move towards a single commissioning model.
Senior leaders in Leicestershire agreed commissioning arrangements had to respond to the national focus on STPs and the drive toward ACSs, the development of integrated localities and the region's financial challenge.
The report said the CCGs needed to "collectively ensure our limited clinical, managerial and board time is focused in the most effective and efficient way to support delivery".
"This will mean a general move towards closer collaboration and greater joint working," Dr Palin added. "The focus will be on increasingly working as one commissioning team across LLR that serves the three statutory bodies."
Instead of a formal merger, he said the CCGs plan to work as a "virtual LLR-wide team in those functional areas where it makes sense to do so".
Although the report does not specifically recommend the establishment of a joint committee, it said the organisations will formalise joint decision making arrangements to enable "common decisions to be taken once, in the same place".
Source
CCG governing body papers
Source date
September 2017