Admissions to a community hospital under threat of closure have been halted
CCG chief officer says patient safety is compromised by "lengthening timescales"
Department of Health received referral over CCG's plans in April
Provider warns of staff shortages
Commissioners say a delay in a decision by the health secretary is affecting patient safety after admissions were halted at a community hospital.
East Riding of Yorkshire Clinical Commissioning Group approved plans to withdraw community beds and close three minor injuries units in March after awarding a £135m contract to community interest company City Health Care Partnership.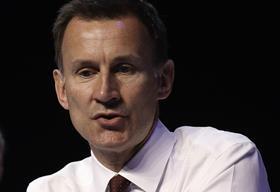 However, the plans were put on hold when East Riding of Yorkshire council referred the CCG's decision to Jeremy Hunt on 4 April.
On Wednesday, admissions to Withernsea Hospital, one of the hospitals set to lose beds, were halted temporarily because of "severe" staff shortages caused by uncertainty pending Mr Hunt's decision.
CCG chief officer Jane Hawkard said: "The CCG has been working with our community services provider in preparation for making changes to services and we were hoping to hear the views of the secretary of state for health before implementation.
"However, lengthening timescales are now affecting service provision and patient safety.
"Business continuity plans have been put into place and the service has already been running below full capacity due to staff shortages, giving rise to increasing concerns over patient safety and continuity of good quality care.
"These plans are not sustainable in the short term and have therefore led to the decision by CHCP to close the ward temporarily."
Under the CCG's plans to reshape urgent care, three urgent care centres would be provided in Beverley, Goole and Bridlington, while the remaining three minor injuries units would be downgraded.
Beds would be centralised at East Riding Community Hospital in Beverley alongside additional beds in care homes, with wards closed at Withernsea and Alfred Bean Hospital in Driffield.
However, HSJ understands CHCP has struggled to recruit nurses, relying on agency staff to work on the 12 bed ward at Withernsea since the council referred the decision to Mr Hunt.
Andrew Burnell, CHCP's chief executive, said: "There have been occasions when staff shortages have been so severe, we have been very close to having to move elderly patients to another community hospital, often in an evening, because nurses have called in sick or agency staff are not available.
"This is not good for either patients or staff."
The ward is currently operating with minimal occupancy, with the last patient expected to be discharged by the end of the month.
However, no new patients will be admitted from Wednesday.
The Department of Health was approached for comment.
Source
CCG and CHCP statements; information provided to HSJ
Source date
16 August 2017