Virgin Care demands CCG pays more for controversial prime provider contract
Sources say the private provider has demanded almost £5m extra
East Staffordshire CCG has been in contractual dispute with Virgin for months
Virgin Care has demanded more money for a controversial prime provider contract it signed with commissioners in Staffordshire last year, HSJ has learned.
East Staffordshire Clinical Commissioning Group has said it is "resisting" requests from the company for more money for the £270m prime provider contract.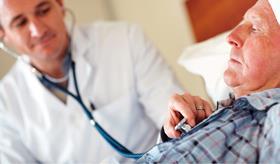 Both the CCG and Virgin Care have refused to confirm the amount being asked for, however, sources have told HSJ the private provider has asked for nearly £5m extra.
The news follows reports earlier this year that the CCG was in a dispute with the Virgin over "contractual claims" the company had made in relation to the "Improving Lives" contract
In 2015, Virgin Care was awarded a fixed price, seven year prime provider contract worth £270m, which went live in May 2016.
As part of the contract, Virgin took on the financial risk for community services in East Staffordshire and is responsible for commissioning services for frail elderly patients, people with long term conditions and intermediate care.
When the contract was awarded, the CCG said it had pursued the prime provider model because of increases in demand and costs, and without it the CCG would be "unsustainable" by 2018.
Responding to a freedom of information request from HSJ, the CCG said: "Virgin Care has asked for more money under the Improving Lives contract, which East Staffordshire CCG is resisting."
In August, HSJ reported Burton Hospitals Foundation Trust was forced to pay £300,000 in unexpected VAT charges at the end of 2016-17 in relation to services it was commissioned to deliver by Virgin as part of the contract.
The trust has predicted that it will have to pay up to £400,000 in 2017-18. HSJ understands Burton would not have incurred the charges had it been directly commissioned by the CCG as opposed to Virgin, which is outside the group of NHS organisations that can recover VAT costs.
Virgin Care refused to comment on why it was asking for more money and whether the contract is sustainable at the current value of £270m.
However, a spokesman said: "We are committed to, and focused on, continuing to deliver the Improving Lives programme and our promises to local people: improving health outcomes, working with partners to improve patient satisfaction and providing extra support at home, avoiding hundreds of unnecessary hospital admissions, and reducing pressure on A&E services."
A CCG spokeswoman said: "East Staffordshire CCG has an ongoing contractual dispute with Virgin Care and it would not be appropriate for us to comment."
Source
Information provided to HSJ