Isle of Wight CCG proposes shifting more than 10 per cent of activity off the island
Critical care services proposed to move to Portsmouth or Southampton
Plan comes after review of acute services
Health economy has workforce shortages and faces a £70m deficit by next year
Critical care services are set to be moved from the Isle of Wight under new plans drawn up by the health leaders on the island.
Isle of Wight Clinical Commissioning Group is proposing to retain 89 per cent of current acute activity at main provider Isle of Wight Trust, but patients needing high risk and complex emergency and elective surgery will be treated in Portsmouth and Southampton.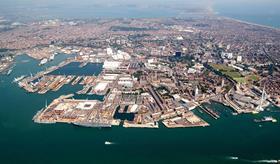 Isle of Wight Trust is currently in special measures, while the CCG is subject to legal directions from NHS England.
The health economy is at risk of racking up a £70m deficit by 2019. The island has a population of 140,000, which increases significantly in summer due to tourism.
Five shortlisted options were drawn up by officials following discussions with clinicians and managers on the island and at trusts in Portsmouth and Southampton.
The options included: not changing anything; retaining services but creating a more flexible workforce with mainland providers; moving critical care services to the mainland; and moving 54 per cent of current acute activity off the island.
According to CCG governing body papers, none of the options "fully address" the financial gaps but CCG leaders said their preferred option of retaining all services except critical care would provide the "best value for money".
As well as retaining most of the current activity, this option envisages a net reduction of 500 patient journeys to the mainland annually by using technology to replace some outpatient appointments.
The CCG also wants to relocate "other elements of care pathways" to the island, such as preoperative assessments.
In response to concerns from clinicians over the risks of transferring critical care patients to the mainland, the CCG said its final decision would depend on how it defines the workforce requirements in "key specialties".
No changes will be made until a "credible and seamless transfer and retrieval system" is in place, the papers said.
Services that could be moved off the island include:
critical care support for cardiac patients;
advanced support for babies from a neonatal intensive care unit; and
inpatient care of more than 24 hours for children.
Transferring more than half of acute services from the Isle of Wight would "address the workforce and quality issues" but create "significant clinical risks associated with high volumes of patient transfers", the papers added.
It was also felt travel and capital costs would be greater than the efficiencies that could be generated through moving more services off the island, and delivering the changes would take more than five years.
If the proposal is approved at the CCG's meeting tomorrow, then leaders will "rapidly refine" the recommended option and develop the workforce model and transport system to put the plan in place.
A business case will be drawn up and submitted to NHS England over the coming months. A public consultation is planned for November.
Source
CCG governing body papers