WORKFORCE: A Kent clinical commissioning group is considering bringing in clinicians from Calais to help reduce waiting times and increase choice locally.
Medway CCG has confirmed it is "exploring" the move just months after two French hospitals were accredited to provide some elective services to Kent residents.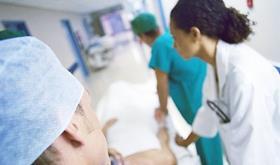 In a report to the Medway CCG board, the scheme is mooted as one of a number of suggestions to help ease referral to treatment times in the area and increase patient choice. Medway Foundation Trust has seen capacity constraints lead to a large increase in the number of patients waiting more than 18 weeks especially around orthopaedics; ear, nose and throat; and dermatology. There are also delays around imaging and endoscopy diagnostics. The CCG puts the number of people waiting over 18 weeks at 10,000.
The trust is not expected to be able to resolve this until the end of 2016-17 and the CCG wants to expand the elective provider base by commissioning extra capacity, contracting with a new private sector provider, and exploring the use of "Calais Hospital consultant and nursing workforce in local available premises".
In a statement the CCG said: "Medway CCG is committed to improving choice and access to healthcare for our patients. To deliver this, we are working with our partners NHS England and Medway Foundation Trust to explore ways in which additional capacity can be developed locally. These discussions are at a preliminary stage and form part of the CCG's Patient Choice Plan in line with national patient choice guidelines.
"No decisions have yet been made in relation to the possible use of clinical staff from Calais Hospital and this is only one of a number of options currently being discussed. If partners agree that this is part of a realistic and cost-effective solution that can improve patient outcomes, we will be seeking to deploy Calais staff locally, rather than sending our patients for treatment in France."
Any move to bring in staff from France would face several hurdles. Staff would need to be registered with UK regulators, premises with suitable spare capacity would need to be located – and registered with the CQC, and pathways including pre and post surgical care would need to be drawn up.
Using teams from overseas to provide services in the UK was tried in the early 2000s under health secretary Alan Milburn. There was opposition from some British consultants and claims of high complications rates.
Source
CCG board papers and information provided to HSJ