Three out of five CCG chairs abstain from vote on STP plans
Plans approved for public consultation as other senior figures back move
Hospital consultants also raise concerns about reconfiguration
Three out of the five clinical commissioning group chairs in mid and south Essex abstained from a vote over publishing a consultation on plans to reconfigure local hospital services, HSJ has learned.
The three abstaining CCGs chairs were Castle Point and Rochford's Kashif Siddiqui, Southend's José Garcia Lobera and Thurrock CCG's Anand Deshpande. All three are GPs.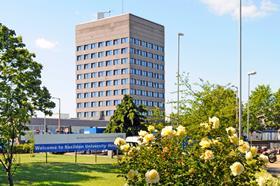 The Mid Essex and Basildon CCG, Brentwood CCG chairs and all five of the CCGs' accountable officers voted in favour of the proposals – meaning the vote was passed with seven in favour and three abstentions.
The vote kicked off a public consultation on the plans, Your care in the best place, which will run until 9 March.
Fresh concerns about the Mid and South Essex Sustainability and Transformation Partnership plans have also been raised to HSJ by hospital consultants, in indications that another clinicians' revolt may be brewing (see box).
In a statement issued by the STP to HSJ, Southend CCG chair Dr Lobera said the GP chairs were "in complete agreement that the proposed hospital changes should be published for consultation".
He said the chairs abstained "to highlight our view that the mid and south Essex health and care system needs further investment in primary care". He added: "As partners in the Mid and South Essex STP, we will continue to discuss how best to secure this."
The plans set out changes to acute services at the three hospitals in mid and south Essex at Basildon, Southend and Chelmsford, which are all run by different trusts but managed by a joint executive team under a new "group model".
The three trusts involved in the "group model" being run by one executive team are Basildon and Thurrock University Hospitals Foundation Trust, Southend University Hospital FT and Mid Essex Hospital Services Trust.
The plans set out to "separate some planned operations from emergency cases" and "bring together in one place some specialist inpatient care", as well as long debated changes to accident and emergency services.
The STP plans propose to "maintain the majority of services for respiratory care at all three hospital sites", but the most seriously ill would be transferred to "a specialist respiratory ward at Basildon hospital".
The CCGs whose chairs abstained from the plan are in the south of the patch, in and around Southend, whose supporters have feared downgrade at the expense of Basildon.
One senior hospital clinician raised concerns to HSJ that proposals for transporting respiratory patients between hospitals as set out in the plans could raise patient safety risks. The STP insisted there had been significant clinical engagement (see below).
System leaders 'seriously mispresented' clinicians support for A&E reconfiguration
A letter outlining senior consultants' concerns about the amount of clinical engagement prior to plans to reconfigure A&E services across three Essex trusts were published has been obtained by HSJ.
The letter has emerged as consultants issued fresh warnings there could be similar problems with a new consultation published this month covering further hospital reconfiguration plans across the three trusts.
The letter, sent to system leaders in May, is believed to have in part led to Essex system leaders dropping plans for a "blanket" redirection of all blue light ambulances from two of the area's hospitals to Basildon.
HSJ understands the consultants are now concerned there has not been enough clinical engagement in developing further reconfiguration plans put out for public consultation this month (see above).
Senior clinicians fears the fresh consultation process is following a similar pattern to the earlier one on A&E services, HSJ has been told by two consultants who spoke on condition of anonymity.
The letter was sent to the chief executive of the group overseeing the three hospitals, Clare Panniker and her senior team. It said local GPs and local councillors had been misled about the amount of clinical support the A&E reconfiguration plans had.
The letter was obtained under the Freedom of Information Act by the Save Southend A&E campaign group.
It said: "We are told that when these proposals were challenged by groups [of GPs and local councillors who were consulted about the plans], they were told the proposed changes were all driven by emergency clinicians. We feel this is a serious misrepresentation and would like this to be addressed."
The letter said the consultants did not support plans for the "formation of a 'super' or red emergency department or the removal of front door emergency services from any of the sites". "Our concerns have come over the lack of clarity of communication of the [options being considered for reconfiguring A&E services] to wider audiences following the release of the options appraisal," the letter continued.
The STP insisted there had been significant clinical engagement. Chief medical officer for the three hospital trusts Celia Skinner said: "The proposed changes in hospital services have been developed by clinicians over 18 months and with input from local people.
"As part of the development process, there were four clinical reviews by the independent East of England Clinical Senate and an options appraisal involving a panel of clinical experts from outside our area, which has provided substantial clinical assurance.
"There is still further work to do both during the consultation and in future implementation to ensure complete clinical assurance. Our approach to any implementation will be to plan key stages where we will be able to ensure patient safety and to test and review each stage before moving on to the next."
A spokeswoman for Save Southend A&E said: "It is clear that the Mid and South Essex Success Regime senior members were told by the lead consultants from the A&E departments in question as far back as 15 December, 2016 that they did not support the Regime's plans to downgrade two of the A&E departments whilst making the third, Basildon, a larger emergency care centre.
"Yet despite this, the Success Regime continued to mislead the public and politicians alike by claiming that their plans were 'clinically led' for a number of months afterwards.
"It is incredible that it took over six months of extremely high profile public campaigning, backed up by overwhelming research based clinical evidence proving the dangers the public would face if their ill conceived, cost driven plans went ahead, when all along they knew their own clinicians did not support the scheme."
Source
Information obtained by HSJ