Maggie MacIsaac takes up role as accountable officer across four Hampshire CCGs
Departing CCG chief to remain in charge of the county's STP
Appointment is first move towards establishing single leadership team
Four clinical commissioning groups have appointed a single accountable officer as part of a new partnership to "share expertise and reduce duplication".
Maggie MacIsaac has taken on the role at North Hampshire, North East Hampshire and Farnham, Fareham and Gosport, and South Eastern Hampshire CCGs.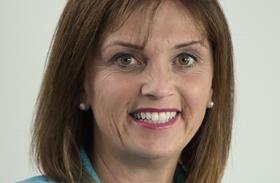 She was previously chief officer of North East Hampshire and Farnham CCG.
There are now 85 CCGs sharing accountable or chief officers across the country.
The move has led to a reshuffle of the CCGs' leadership.
Richard Samuel stood down as Fareham and Gosport CCG's accountable officer on 31 March but he will remain chief officer of the Hampshire and Isle of Wight sustainability and transformation partnership.
North Hampshire CCG's interim accountable officer Paul Sly has left and the position has been closed.
Alex Berry, who was acting chief officer for Fareham and Gosport and South Eastern Hampshire CCGs, has become acting chief operating officer for both groups.
Fareham and Gosport CCG's April governing body papers said: "Over the next three months we will work through any further changes that are needed to the leadership arrangements across the four CCGs."
Appointing one accountable officer and establishing a single leadership team for the CCGs is part of the Hampshire and Isle of Wight STP.
Under the arrangement a new "partnership board" has been set up, as well as a "partnership executive forum" that includes all current CCG executive members. The latter meets fortnightly with a teleconference on weeks inbetween.
The partnership board has been established as the decision-making body and strategic leadership group for the partnership, a spokeswoman for the four CCGs said.
"Each CCG has delegated authority to the partnership board so that it can act on behalf of the partnership," she said.
The partnership board meets monthly and its membership includes the chief executive, the clinical chairs of the four CCGs, and four non-executive members, who are also lay members of the CCGs in the partnership, the spokeswoman said.
But each CCG remains an independent body with statutory responsibilities and accountabilities, the spokeswoman said.

The partnership will work with Hampshire County Council on "service improvements", rather than four CCGs working separately with the council, with the risk of different priorities and approaches, the spokeswoman said.
"Through the partnership the four CCGs are now able to have a single streamlined approach, and have prioritised improving continuing healthcare, reducing delayed transfers of care, and joint commissioning children's and mental health services," the spokeswoman said.
The four groups combined commission health services for 850,000 people with a budget of £1.1bn.
David Chilvers, chair of Fareham and Gosport CCG, said: "Working together is allowing us to share expertise, to be more effective and to reduce duplication."
Source date
April/May 2017