North Lincolnshire Clinical Commissioning Group chief officer Liane Langdon is stepping down from the role.
The CCG was given legal directions by NHS England in July as part of efforts to bring the health economy in North Lincolnshire back into financial balance.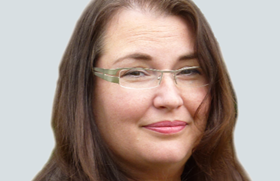 Emma Latimer, chief officer of Hull CCG, joined North Lincolnshire as turnaround director earlier this month, to oversee a financial recovery plan for the CCG as well as review its governance arrangements.
Under the capped expenditure process, the CCG is required to return to financial balance by March 2018.
According to the latest governing body papers, the CCG is forecasting a year-end surplus of £90,000.
However, they added: "At month five, the CCG has reported a year to date overspend of £1.3m. This is a deterioration of £657,000 from month four."
Ms Landon said the time was right "for a new pair of hands to take the wheel".
CCG chair Margaret Sanderson said: "We are working with NHS England and hope to announce the appointment of a new chief officer soon who we are confident will lead the CCG through this next phase."
Source date
19 October 2017