North Tyneside CCG approves plans to replace three walk-in clinics and OOH service with single urgent care centre
Governing body to begin procurement for site and provider of the new service
Public consultation found preferred site was North Tyneside General Hospital, run by Northumbria Healthcare FT
Trust refuses to allow tendering of new service and says any other provider would be "unfeasible" at NTGH
Commissioners in the North East have approved plans to replace three walk-in centres and an out of hours GP service with a single urgent care centre.
North Tyneside Clinical Commissioning Group's governing body gave the green light yesterday to a competitive tender process to identify a suitable site and provider for the new centre.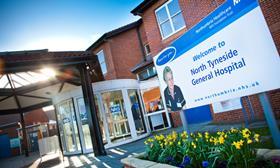 The preferred site is North Tyneside General Hospital, run by Northumbria Healthcare Foundation Trust. The trust said it would be "unfeasible" for any other provider to run the new service out of the site.
The CCG was one of 26 rated as "inadequate" by NHS England in July and was also put into financial special measures by regulators this month.
CCG board papers said 47 per cent out of nearly 800 consultation responses favoured the new urgent care centre being at North Tyneside General Hospital, which has a walk-in centre run by Northumbria Healthcare.
However, the report said the FT refused to allow a competitive tender for a service based at the hospital, so the CCG has opened up the process to other sites.
It added: "The CCG contacted Northumbria Healthcare to enquire whether they would be willing to allow us to run a competitive tender for a service based at NTGH.
"The trust formally declined to this and consequently we will allow providers to nominate other suitable sites in North Tyneside in order to avoid excluding them from the tendering process."
Northumbria Healthcare medical director Jeremy Rushmer said the trust was best placed to run the new service because of its established links between the current NTGH urgent care centre and its clinical teams at the new specialist emergency care hospital.
He added: "Whilst we fully support the introduction of a single integrated urgent care centre in North Tyneside on our general hospital site, it would be completely unfeasible for any other provider to deliver this service without significant risk for the trust and would detract from the current arrangements which are already working very well to deliver the highest standards of safe patient care."
The CCG launched a consultation last year giving people four options for the future of urgent care in the region, all with a single new centre at either NTGH or Battle Hill Health Centre.
The CCG said with the opening of Northumbria Healthcare's specialist emergency care hospital last year it was commissioning three separate urgent care centres with duplicate provision.
The papers added: "It is also financially unsustainable for the CCG."
The most recent board papers said the CCG has a forecast £19.3 deficit for the year, but a risk of £7.9m means the total deficit for 2016-17 is "likely to be £27m".
The board yesterday approved the recommended plans to:
Decommission the existing urgent care services at NTGH, Battle Hill, Shiremoor Health Centre and the GP out of hours service from 30 September next year.
Open a single integrated 24 hour urgent care centre for minor injuries and illnesses from 1 October 2017.
Commission the new service with a £3.3m block contract.
Begin a procurement process to find a provider and site for the new centre.
The new centre will provide both primary care and a minor injuries and illnesses service for all age groups 24/7, with patients being able to use it as a walk-in centre or book through NHS 111 or as self-referrals.
A full service specification and procurement strategy is due to be presented to the governing body on 20 December.
Source date
25 October 2016