Oxfordshire CCG must look again at maternity reconfiguration plan, says IRP
Oxford University Hospitals must continue trying to recruit obstetricians
IRP says "lack of knowledge or inexperience" hindering service change across England
CCG says it will do better
An independent review has recommended Jeremy Hunt knocks back an NHS decision to downgrade a general hospital's maternity services.
The Independent Reconfiguration Panel also told the health and social care secretary, in advice published this week, a "lack of knowledge" about consultation and engagement was hampering service change across the NHS.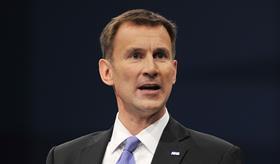 In August, Oxfordshire Clinical Commissioning Group approved controversial plans to permanently downgrade Horton General Hospital's maternity service to a midwife-led only unit. The unit had been temporarily downgraded 10 months prior as Oxford University Hospitals Foundation Trust, which runs the hospital, said it could not recruit enough doctors to run a safe obstetric service.
Oxfordshire's joint health overview and scrutiny committee referred the decision to Mr Hunt, saying the consultation process was inadequate and the proposals were not in the interests of the area. Mr Hunt passed them to the IRP.
The IRP said this week it found "further action was required locally before a final decision is made about the future of maternity services in Oxfordshire". It said OUH must continue the recruitment process for obstetric doctors at Horton until a final outcome is reached.
A Department of Health and Social Care spokeswoman said Mr Hunt would "respond in due course". The IRP's advice is normally accepted.
The panel said a "more detailed appraisal" of alternative options for Horton's maternity service was needed, as the CCG's initial review "fell short". However, it said pressure on resources "must be confronted honestly by all parties".
The IRP found the CCG's decision to consult in two parts was flawed because decisions about obstetric services "inevitably influence" other services such as midwife led units across Oxfordshire, and paediatrics, which it hoped to consult on separately.
CCG chief officer Louise Patten said: "I will personally ensure that the CCG and wider health system approach the IRP recommendations in a way that ensures all stakeholders feel involved and informed."
The CCG said last week it will approach "the next phase in a very different way".
Wider NHS lessons
The IRP also used its report to suggest that the Oxfordshire case reflected wider failings in consultation and engagement on service change, particularly in relation to sustainability and transformation partnerships.
It found Oxfordshire had failed to meet a "requirement to form a joint scrutiny board" of all affected local authorities, which included Northamptonshire and Warwickshire in addition to Oxfordshire. The report also said the plans formed part of the wider Buckinghamshire, Oxfordshire and Berkshire West STP.
The review said: "The complexity of consulting on issues on this scale is not to be underestimated and requires a level of preparation, cooperation and exchange of information that many NHS bodies and their local authority counterparts may not previously have faced."
It recommended that the DHSC and NHS England "consider" whether guidance around health scrutiny regulations is "sufficiently understood and used effectively", especially for STPs. It said a "lack of knowledge or inexperience seems to be preventing" effective scrutiny "in some places".
The report also confirmed that a first referral to Mr Hunt by the scrutiny committee about the initial temporary downgrade of Horton's maternity services had not been found "suitable for full review". A judicial review brought by four councils was heard in December but "dismissed" by the judge.
Source
IRP review; information provided to HSJ