MP criticises NHS England and Simon Stevens for silence over Shropshire emergency care reconfiguration row
Telford and Wrekin CCG and Shropshire CCG at deadlock over preferred reconfiguration plan
Health minister said CCGs will appoint an independent chair who will have a casting vote in future disagreements
NHS England says local health system leaders in Shropshire are responsible for leading transformation plans
A local MP has criticised Simon Stevens and NHS England for being "silent and detached" over the deadlock preventing hospital reconfiguration in Shropshire.
Shrewsbury and Atcham MP Daniel Kawczynski's comments come after a consultation on the reconfiguration of Shrewsbury and Telford Hospital Trust was halted because Shropshire Clinical Commissioning Group and Telford and Wrekin CCG were unable to reach an agreement last year.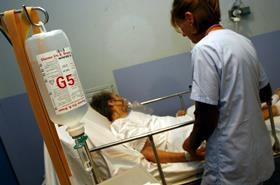 The Future Fit programme was launched almost two years ago by health organisations across Shropshire. The preferred option put forward by the programme would move all emergency and critical care to the Royal Shrewsbury Hospital, while the Princess Royal Hospital in Telford would become an urgent care centre with a midwifery led unit. Both sites are run by Shrewsbury and Telford Hospital Trust.
At a joint committee meeting in December, six Shropshire CCG representatives voted for the plan recommended by the programme, while six representatives from Telford and Wrekin CCG voted against.
Talking about the dispute between the CCGs, Mr Kawczynski, told HSJ: "I find NHS England and the chief executive of NHS England very remote; we don't get responses from the head of NHS England as quickly as we would have liked and it's almost as if NHS England has taken a back seat to supervision on what are critical situations.
"My question to the chief executive of NHS England would be why and how he has allowed these massive delays to take place? Where was the ongoing managerial supervision to ensure that these decisions are taken in a timely cost effective way? Why has NHS England been extensively silent and detached from this process?"
At an adjournment debate in the House of Commons on 11 January, health and care minister David Mowat said the CCGs would be appointing an independent chair to the joint committee who would have a casting vote if they are unable to agree.
Mr Mowat said this was due to happen in the week commencing 16 January. HSJ understands an independent chair has not yet been appointed.
The CCGs will also launch a review of the Future Fit programme and its appraisal process.
A spokesman from Midlands and Lancashire Commissioning Support Unit, which represents both CCGs, said they would look into appointing the chair once the review was complete.
The CCGs have not said how long the review will take.
Wendy Saviour, director of commissioning at NHS England North Midlands, said: "The transformation of health services is led locally and system leaders in Shropshire are responsible for the Future Fit programme. NHS England and NHS Improvement continue to support local leaders to achieve resolution.
"NHS England and NHS Improvement are reviewing Shropshire's Future Fit proposal for capital expenditure, alongside all other requests for capital funding, so they can prioritise schemes with the biggest impact on improved services for patients over the next couple of years."
Source
Information provided to HSJ