CCG hopes to expand project to reduce high risk patients' need to go to hospital across STP area
Vale of York CCG running a trial with Swedish firm Health Navigator to provide "proactive health coaching" to most at risk patients
Two year, £600,000 contract is expected to save £1.4m by reducing hospital admissions and bed days
Commissioning leaders in Yorkshire hope their successful project to keep high risk patients out of hospital could spread across the whole region.
Vale of York Clinical Commissioning Group has been running a random control trial with Swedish firm Health Navigator to provide "proactive health coaching" to its most at risk patients.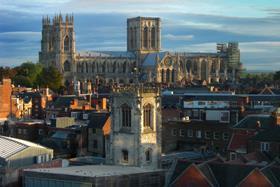 The CCG expects the two year, £600,000 contract to save the region £1.4m by reducing non-elective hospital admissions and bed days.
The contract between Health Navigator and the CCG says that savings made beyond the £600,000 investment are paid back and split equally between the two organisations.
In the first wave of 233 patients in the trial, it saved 309 bed days and prevented 44 admissions between September 2015 and October 2016. The second wave of 400 patients was given the green light in October and is expected to save a further 720 bed days and prevent 100 admissions by September 2017.
If the second wave of the trial is successful, the CCG will look to expand it across the whole of its area and extend to the Humber, Coast and Vale sustainability and transformation plan footprint.
Deputy chief operating officer Fiona Bell said: "If we keep getting the results we are seeing and patient benefits this will stop being a trial – the intention would be to commission that for the whole Vale of York locality.
"The next logical step would be if we can demonstrate this success, this will be something we want to share across the STP footprint.
"There's a lot of interest and I know Health Navigator has had conversations with a handful of CCGs to look at recruiting more sites."
The CCG said the trial has saved £188,000 in outpatient appointments and elective admissions so far. GPs have also said it is reducing the number of appointments for patients involved in the trial.
Health Navigator works with the high risk patients, which were identified for the trial by Yorkshire Teaching Hospital Foundation Trust as people with high levels of non-elective admissions.
The firm has a face to face interview with the patient and works out the best plan for keeping them out of hospital.
This can include:
a weekly or bi-weekly call to check in on the patient;
sign posting them to services other than accident and emergency if they are worried about their condition; and
easing any anxiety they have about their condition so they do not panic and go straight to hospital.
Ms Bell said the calls allow the coaches to check on how the patients and plan an intervention before they might end up in hospital.
She added: "This is not an emergency service; this is not for when people go into crisis. It's about helping them develop long term self-care skills and making sure they use services appropriately."
The next interim result evaluation of the trial will be prepared this month and a larger external evaluation will be carried out at the end of the trial with the Nuffield Trust.