PERFORMANCE: Three senior NHS executives have been drafted in to support the development of recovery plans at an under pressure CCG after it was put into turnaround.
Latest figures show Vale of York CCG was forecasting a £6.3m deficit in 2015-16 – a performance £10.2m worse than expected – and a cumulative deficit of £16.4m by March 2017.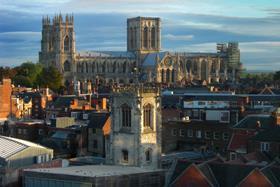 Health leaders admit the local health and care system is facing a "very serious financial situation" and are warning of "difficult decisions ahead" in the area, which has suffered from a series of cash crises in the last 15 years. A strong focus is expected on developing out of hospital care.
A report by consultants PwC, commissioned by NHS England, found the CCG was slow to react to the "gravity" of its financial situation, with a focus on quality and strategy hindering its recovery response, as well as a lack of senior management capacity.
It recommended hiring a turnaround director at the CCG but instead three independent NHS experts are providing support to develop detailed transformation and savings plans: Tim Lowe, regional head of finance at NHS England North; Helen Hirst, chief officer of the two Bradford CCGs; and Matt Walsh, chief officer at Calderdale CCG.
A four year financial recovery plan aims to return the CCG to surplus by the end of 2019-20.
The report pointed to significant risks in the CCG's original budget last year. Rising hospital activity saw non-elective admissions at its main provider, York Teaching Hospital Foundation Trust, 14 per cent above plan and emergency department attendances 17 per cent above plan. Only 15 out of more than 60 quality, innovation, productivity and prevention schemes delivered in-year savings.
It said: "Whilst there is good clinical engagement at the governing body and a significant number of clinical leaders, this has not led to the CCG demonstrating or achieving financial and operational grip."
Problems had been further exacerbated by historically "difficult" relationships with York Teaching Hospital, local councils and the GP Council of Representatives, which pulled back from a vote of no confidence in the autumn over the CCG's senior management's capacity to deliver a financial recovery plan. Relations are understood to be improving.
CCG leaders also faced the time consuming "distraction" of the commissioning support procurement process in Yorkshire, PwC concluded.
"The senior management team do not currently have the capacity to take on additional procurement processes such as this," said the report.
In a statement, the CCG said: "Working in partnership, local health and care providers and commissioners are driving transformational change to tackle the deteriorating financial position."