All CCGs in West Yorkshire and Harrogate STP patch sign up to form a joint commissioning committee
The 11 CCGs have signed a memorandum of understanding and terms of reference
NHS England needs approve the changes to CCG constitutions necessary for the committee to make decisions on behalf of the CCGs
All the clinical commissioning groups across a sustainability and transformation plan footprint have signed up to form a commissioning committee covering the whole patch.
The 11 CCGs in the West Yorkshire and Harrogate STP have signed a memorandum of understanding and agreed terms of reference to create the joint committee.
Once up and running, the committee will make decisions about how STP-wide services are commissioned.
The committee's priorities have not been confirmed, but HSJ understands areas the it could make decisions on include: cancer; urgent and emergency care; mental health; and standardising commissioning policies.
The 11 CCGs are:
Airedale, Wharfedale and Craven;
Bradford City;
Bradford District;
Calderdale;
Greater Huddersfield;
Harrogate and Rural;
Leeds North;
Leeds South and East;
Leeds West;
North Kirklees; and
Wakefield.
The memorandum says the CCGs will send two delegates to represent them on the committee, which will have an independent chair and two lay members.
It will be hosted by Wakefield CCG and have a budget of £500,000 from the groups to fund the core team and infrastructure. The first of its monthly public meetings is expected to be in May.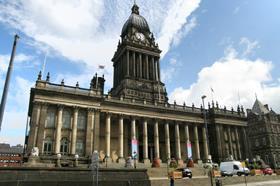 The CCGs will also write the new committee into their constitutions to allow it to be a decision making body on behalf of all the organisations. To make decisions the committee will need the support of 75 per cent of its members.
Each CCG will apply to NHS England to approve changes to their constitution. The national body told HSJ it had only received one application at the time of writing
The CCGs will still make local commissioning decisions and can delegate decisions to a lead commissioner or contractor if relevant.
STP programme director Ian Holmes said each CCG had agreed to delegate decision making to the committee, with the scope of the work being set by an annual work plan agreed by each CCGs' board.
It will set out which decisions will be made by CCGs, the joint committee or lead commissioners.
Mr Holmes added: "We want to do transformation as close to the population as possible but absolutely recognise the need to work at a West Yorkshire and Harrogate level. The joint committee arrangements are a step towards formalising that way of working
"What we are really trying to do is say: we need to get in a room and talk about the shared issues and problems we have got, come up with solutions that are in our and the patients' interests."
The STP, which covers a large patch with a 2.5 million population, decided to break down into six smaller constituent parts which have drawn up separate plans: Wakefield; Bradford district and Craven; Leeds; Kirklees; Calderdale; and Harrogate.
The STP proposals also include integrating health and social care commissioning, and creating accountable care organisations.