ESTATES: Waltham Forest Clinical Commissioning Group has raised concerns that Barts Health Trust being placed in the new financial special measures regime will endanger plans to use surplus land for affordable housing for NHS staff.
As part of a financial "reset" last month, NHS Improvement placed Barts Health and four other trusts in the new intervention regime. According to the reset document, the regulator has the option of removing control over key financial decisions from trusts in the regime.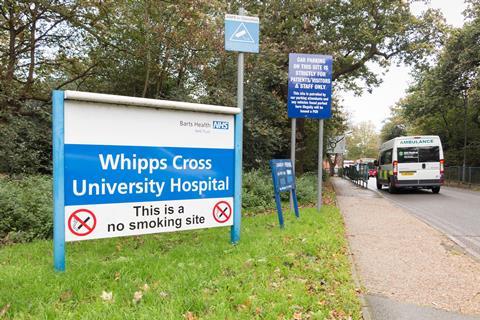 The Department of Health is able to exchange providers' surplus assets for cash under the regime, and will not accept loan applications from them.
Waltham Forest CCG had proposed that surplus land on Barts Health's Whipps Cross hospital site be used for affordable accommodation for staff, alongside plans to turn the site into a health and social care hub.
However, CCG leaders are concerned that "the trust could lose its financial autonomy if it cannot demonstrate significant improvement in its finances", and as a result the land could be "sold to the highest bidder to manage [the trust's] short term financial issues".
Anwar Khan, chair of Waltham Forest CCG, said: "We believe that the potential long term saving by providing affordable accommodation on the Whipps Cross site could dwarf any immediate capital receipt.
"The guidance issued indicates that NHS Improvement can remove providers' autonomy over key spending decisions, including exchanging surplus assets for cash. While we recognise that the trust needs to return to a sustainable financial position, we are keen that the whole health economy is involved in the decision making process."
HSJ understands the Department of Health will review any proposed exchange of surplus assets on a case by case basis.
A spokesman for Barts Health said: "Our population is growing and getting older so it's vital that the Whipps Cross Hospital site works well into the future and supports local people to stay healthy. Our national and local colleagues support this ambition for an affordable local hospital fit for future health needs.
"That's why we are working on an exciting vision that will make sure the Whipps Cross hospital site can become a thriving hub for health and social care services.
"We have committed to maintaining accident and emergency facilities, a maternity unit and supporting hospital services. We are now working with our partners and local people to create innovative plans that potentially extend far beyond hospital provision."
At the NHS Confederation conference in June, NHS Improvement chief executive Jim Mackey said plans were being worked on to build 22,000 affordable homes for staff on excess NHS land in coming years.
Source
Information provided to HSJ