Four clinical commissioning groups in the North West plan to establish a "unified health commissioner" that could lead to a formal merger of the organisations.
The accountable officers for West Cheshire, South Cheshire, Vale Royal and Eastern Cheshire CCGs have agreed a joint committee should be created as a first step, with their governing bodies being asked to approve the plans this month.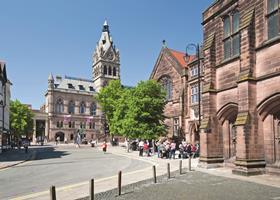 These are the latest CCGs in the region looking to merge or create shared leadership committees, following groups in Manchester and Merseyside.
The plans were explained in a public board paper for South Cheshire and Vale Royal CCGs, which said the county's current commissioning arrangements "often resulted in delays in decision making" and "variation in decisions and approach taken".
It sets out plans to "explore and develop a unified health commissioner for Cheshire", adding that this "could be through formal collaborative arrangements, including the development of joint commissioning committees and may lead to a merger of the four CCGs".
However, the document adds: "Any decision to merge the CCGs must be taken and led by the GP membership of each CCG."
South Cheshire and Vale Royal CCGs already share an accountable officer, Simon Whitehouse, and have had merger ambitions since 2015.
The paper says the unified commissioner would lead on the consultation required for service reconfiguration in the county, and support the development of three accountable care systems or organisations in Cheshire.
These would each include one of the acute providers: East Cheshire Trust, Mid Cheshire Hospitals Foundation Trust, and Countess of Chester Hospital FT. The sustainability and transformation plan for Cheshire and Merseyside includes significant reconfiguration of services across these trusts.
The paper also says the CCGs will need to work closely with Cheshire East council and Cheshire West and Chester council, as well as NHS England, "to progress the development of a unified health and care commissioning approach for the population of Cheshire".
The first joint committee meeting is proposed to take place in June.
Source
South Cheshire CCG and Vale Royal CCG board papers