West Kent CCG uses NHS Right Care data to identify five priority areas for savings
Plans to reduce A&E attendances and prescribing costs
Investment needed to change care models that no longer meeting patients' needs
Commissioners in Kent plan to save more than £7m by reducing unwarranted variation in care over two years.
West Kent Clinical Commissioning Group's proposals focus on waiting times, prescribing costs and frequent attenders at accident and emergency.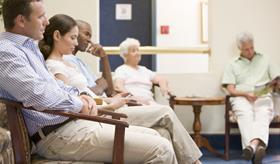 NHS England's Right Care programme identified £17.6m "value opportunities" for the CCG.
The CCG, which achieved a £5.58m surplus in 2016-17, said a £7.2m decrease in spending in five priority areas could be achieved by 2019. These are: frailty; prescribing; musculoskeletal; and urgent and local care, including mental health.
Plans include a "frequent service users project" to support 25 people attending A&E when they feel anxious or cannot access a clinical service. The CCG said this will mean 320 fewer 999 journeys, 560 fewer attendances and 70 fewer admissions in 2017-18.
The CCG said: "Tackling patients' needs in a timely manner in the right environment by the most appropriate clinician at the right time for optimal impact of care will enable a more responsive service and should improve access."
While more than £7m unwarranted variation could be addressed within the next two years, the CCG said some investment was required to make changes to care models.
Before implementation work begins in July, GPs and patients were consulted to redesign pathways, and some changes were tested in pilot schemes.
Right Care data for specialties including cardiovascular disease, cancer, respiratory and neurology were reviewed by the CCG ahead of its decisions.
Right Care is a national programme launched to tackle unwarranted variation in commissioning policies across England. Since April 2016, NHS England has published analysis packs for each CCG to use to reduce variation. The packs compare outcome measures, activity and spending between CCGs with similar demographics for certain treatments.
Findings can also be compared to the Carter review and the Getting It Right First Time programme so commissioners and providers can focus on agreed areas of variation.
The CCG has started discussions with providers including Maidstone and Tunbridge Wells Trust and South East Coast Ambulance Service to tackle unwarranted variation.
Using 2014-15 and 2015-16 data in the Right Care packs, 11 areas of spending reduction were identified including £1.1m in cancer, £3m in MSK and £2.8m in neurology.
The CCG said the five priority areas were chosen because they could deliver better patient outcomes, were linked into its two year operating plan and fitted with providers' plans.
As part of its plans for urgent care, primary care providers have been visited to help staff understand variation and urgent care activity is being monitored and shared.
In local and urgent care, patients will be managed in the community, with services considering how IV medication can be delivered without hospital admission.
Local care will focus on integrated community pathways, reducing unplanned admissions, improved surveillance for respiratory patients, and reducing variation in primary care prescribing.
Cancer pathways with poorer outcomes and long waiting times will be tackled through earlier diagnosis and diagnostic delays.
MSK services will be commissioned to address gaps in provision such as chronic pain management, access to specialist physiotherapy and pre-referral advice for primary care practitioners from a consultant led multidisciplinary team.