COMMERCIAL: Virgin Care has won a £64m contract to be the single provider of community child health services in Wiltshire.
The private health company will take over delivery of the services from three NHS trusts, a social enterprise and a borough council.
Great Western Hospitals Foundation Trust is one of the current providers of children's services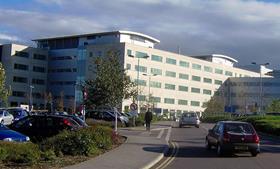 Community child health services in Wiltshire include children's specialist community nursing, health visiting and speech and language therapy.
They are currently provided by Great Western Hospitals Foundation Trust, Salisbury Foundation Trust, Royal United Hospital Foundation Trust, Swindon Borough Council and the social enterprise Sirona Care and Health CIC.
The joint commissioners of the service, Wiltshire Clinical Commissioning Group, Wiltshire Council and NHS England, have been working to create an "overarching" service to remove "variations in service models and pathways".
Last month they named Virgin Care as the winner of the five year contract, which is due to begin in April and has an annual value of £12.8m.
The commissioners said that moving from five providers to one would provide patients with "consistent and equitable levels of service and support regardless of where they live in the county".
Staff working for the services will be transferred to Virgin Care under transfer of undertakings, protection of employment regulations.
Jayne Carroll, Virgin Care's regional director, said: "We are really excited to be working alongside a great team to provide a truly Wiltshire focused service that has been shaped by the people who use it and is focused on delivering outstanding outcomes for children and young people in Wiltshire."
Virgin Care was also in the running for a children's community services contract in Bristol and south Gloucestershire. The bid sparked anti-privatisation protests in Bristol.
A consortium of Avon and Wiltshire Mental Health Partnership, Sirona Care and Health and Bristol Community Health CIC was named as preferred bidder for the contract last month.