STRUCTURE: Norfolk's three hospital trusts and its community trust have signed a memorandum of understanding to try to ensure services in the county remain sustainable.
The Norfolk Provider Partnership brings together Norfolk and Norwich University Hospitals Foundation Trust, James Paget University Hospitals FT, Queen Elizabeth Hospital King's Lynn FT and Norfolk Community Health and Care Trust.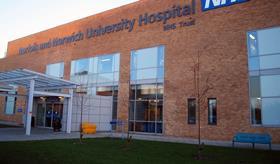 The chief executives of the trusts said in a statement: "We face some difficult challenges as providers of healthcare in Norfolk including the relentless rise in demand for our services, and the recruitment of skilled staff.
"Our organisations already work together, but we think we can benefit patients even further from a more joined up approach to treatment and care, and the NPP will be working together to agree the best ways to provide services for our patients in the future.
"By working more closely together through the NPP we plan to both secure and develop specialist local care for patients to avoid the need for travelling outside Norfolk, to look at providing better support for patients in their own homes preventing unnecessary and often inconvenient hospital stays, and to share good practice more consistently."
The NPP will develop a "comprehensive plan for Norfolk" by November 2017.
Norfolk and Norwich University Hospitals FT is led by Mark Davies, who previously oversaw the merger of several smaller London trusts into Imperial College Healthcare Trust.
Source