Concerns back office tie-up with smaller hospitals will not deliver direct savings for Norfolk and Norwich FT
Issue highlights tension in balancing system wide savings and trusts' control totals
NHS Improvement said collaboration would deliver whole system savings
Concerns have been raised by a teaching trust that consolidating its back office with two smaller local trusts may not deliver direct savings for the larger provider, HSJ has learned.
Norfolk and Norwich Hospitals University Foundation Trust's director of strategy, Simon Hackwell, warned the board that "combining corporate services with others will not obviously result in financial savings for the trust".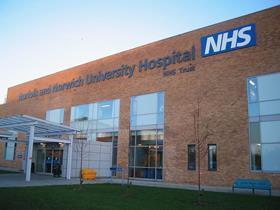 A senior trust source told HSJ a project to develop a joint corporate service across the tertiary provider and its smaller neighbours – Queen Elizabeth Hospital King's Lynn and James Paget University Hospitals – was in the "very early stages" despite managers considering the issue for some time.
The source said that as well as the cost issue, the travel times between the three trusts, which serve a big and largely rural patch, were a significant logistical hurdle that the organisations were grappling with.
The issues highlight the tension facing trusts as they attempt to balance system wide savings obligations with individual organisations' control totals.
Recently published minutes from Norfolk and Norwich's March board meeting said: "Mr Hackwell noted that the evidence of the benchmarking is that combining with others will not obviously result in financial savings for the trust."
This is because a "number of the NNUH departments are amongst the cheapest in the country [based on figures produced by Lord Carter's productivity review team] and there is a question as to whether they require some investment in order to provide the full range and quality of service that we desire. Discussions are ongoing with the divisions to establish their needs," the minutes said.
Mr Hackwell added in a statement to HSJ: "We are confident that despite the high level of efficiencies, we believe there are opportunities to further improve productivity by working more closely with the other trusts."
The developments follow NHS Improvement telling NHS organisations in December to consolidate back office functions at regional level as part of a £350m national savings drive.
The Norfolk back office merger is being explored as part of plans to develop the "Norfolk hospital group", which is designed to consolidate services across Norfolk and Norwich, Queen Elizabeth Hospital King's Lynn and James Paget. The "hospital group" plans are set out in the Norfolk and Waveney sustainability and transformation plan.
An NHSI spokesman said: "The evidence, based on NHS corporate services performance, shows that the most efficient corporate services were delivered by large organisations.
"All trusts and foundation trusts demonstrated one area where they performed well, but on average across the seven functions we have prioritised there is still unwarranted variation. By consolidating corporate services across a wider footprint, the whole NHS can benefit and deliver savings by applying best practice from the most efficient trusts to ensure they deliver high quality, good value for money corporate services."
Source date
September 2017