Norfolk and Suffolk Foundation Trust taken out of special measures
CQC raises the trust's overall rating from inadequate to reguires improvement
Trust to be given support to address safety concerns
A mental health trust has been taken out of special measures after inspectors upgraded its overall rating from inadequate to requires improvement.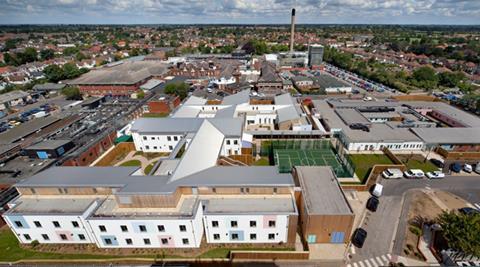 Woodlands Mental Health Unit in Ipswich
Norfolk and Suffolk Foundation Trust was the only mental health trust to receive the lowest Care Quality Commission rating following an inspection in October 2014. It was placed in special measures in February 2015.
The CQC today raised the trust's rating to requires improvement and NHS Improvement said it was taking it out of special measures following the CQC's recommendation.
However, the trust was still rated inadequate for whether services are safe. It was rated requires improvement for whether services were effective, responsive and well led and good for whether they were caring.
NHS Improvement and the trust will now agree an action plan to address the safety concerns, which include:
a number of environmental safety concerns including ligature points;
mixed sex accommodation not meeting national guidance;
concerns about the design of seclusion and places of safety, and seclusion not being managed within the Mental Health Act code of practice; and
staffing levels being insufficient on inpatient wards.
NHS Improvement's delivery and improvement director for the East of England, Frances Shattock, said the trust had made "positive progress" since its initial inspection.
She added: "There is clearly much more to do to ensure that the trust sustains and builds on these improvements.
"We will continue to provide the trust with extensive support to ensure it is able to give the standard of care patients expect."
CQC inspectors carried out a follow-up inspection at the trust in July and August and found "considerable progress" had been made.
Chief inspector of hospitals Professor Sir Mike Richards recommended the trust be taken out of special measures after finding it had "clearly gained from the intensive support of the regime".
He added: "Our return to Norfolk and Suffolk Foundation Trust showed significant improvement had taken place.
"There clearly remain areas where further work is needed, in particular with regard to how the trust manages risks to people's safety, but we found considerable and positive change had taken place.
"Morale had significantly improved, there were better systems for recording and learning from incidents and people's needs were assessed, with care and treatment planned to meet those needs."
Chief executive Michael Scott told HSJ that following the CQC's previous report being published, the executive team began a wide-ranging engagement process with patients and around 2,500 staff – over two thirds of the total employed in the trust - to create a new "values framework".
He said this had underpinned the improvement to staff morale, and added: "What we have done is engage much more with our workforce – that has been the secret of our success. That has allowed us to deliver the quality improvements the CQC have seen.
"What we done already is a significant cultural change, that's what's most pleasing."
Source date
14 October 2016