Community services contract worth £20m to move from Cumbria Partnership to University Hospitals of Morecambe Bay
The move would see more than 500 staff transfer from Cumbria to UHMB from April
Changes are part of the region's accountable care system plans
More than 500 community services staff will be transferred to an acute trust as part of a £20m contract switch paving the way to an accountable care system.
The boards of Cumbria Partnership Foundation Trust and University Hospitals of Morecambe Bay FT approved plans to integrate community and hospital service teams last year.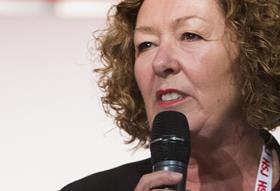 Morecambe Bay Clinical Commissioning Group is expected to transfer the £20m community contract to UHMB in April. Then the 513 community services staff at Cumbria will begin to transfer to the acute trust.
The CCG's commissioning intention is for all community services in its footprint to be provided in a consistent and integrated way.
Executives on both trusts' boards approved the full business case during private sessions of their respective meetings, though discussions over the move began with staff and unions in summer 2017.
The move forms part of the Better Care Together primary and acute care system, which is aiming to set up an accountable care system across the footprint.
As part of the ACS plans, the vanguard has created 12 integrated care communities across the Morecambe Bay area that integrate acute, primary, community and social care services alongside the third sector.
Dame Jackie Daniel, outgoing chief executive of UHMB, said the move will help reduce the duplication and fragmentation of services by creating a consistent model across the region.
Dame Jackie said: "The integration of community services, I believe, could be a real game changer for healthcare across the bay; it is the culmination of discussions going back many years with all partners even before we became a vanguard, it has been carefully thought through and is a planned approach to integrate care for the benefit of patients."
She added that the transfer of the 513 staff would not release any savings in the short term but will result in a range of benefits for patients.
Talks have begun with Blackpool Teaching Hospitals FT, which provides community services in north Lancashire, on the integration of those services into the same model.
A Blackpool spokesman said: "Discussions have begun between the trust, UHMB and Morecambe Bay CCG on the future integration of adult community services in north Lancashire.''
Cumbria chief executive Stephen Eames said that the trust will still provide mental health, children and families, and specialist services across the county.
Mr Eames said: "[The trust] is very supportive of the need to integrate services within accountable care systems that cover north and south Cumbria.
"We will be working with those services and the commissioners to ensure that they can be delivered into the north Cumbria and Morecambe Bay accountable care systems."
Source
Information provided to HSJ