Controversial maternity reconfiguration plans need more money and staff to maintain two consultant led units, Royal College of Anaesthetists warns
College examined maternity plans at North Cumbria University Hospitals Trust
West, north and east Cumbria exited success regime in June
A "more imaginative" recruitment strategy and "considerable" investment will be needed to deliver a former success regime's controversial maternity plans, a royal college has warned.
The Royal College of Anaesthetists has investigated the proposed maternity reconfiguration at North Cumbria University Hospitals Trust.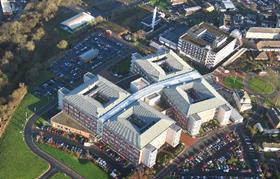 The west, north and east Cumbria success regime originally proposed closing the consultant led unit at West Cumberland Hospital in Whitehaven due to problems recruiting and retaining staff, but keeping open the unit at Cumberland Infirmary in Carlisle.
Cumbria Clinical Commissioning Group decided to test maintaining the two units for 12 months, but to downgrade the unit in Whitehaven to a midwife led service if it was unsustainable.
However, the county council's health scrutiny committee voted to refer this decision to Jeremy Hunt, asking him to overturn the decision.
The region exited the success regime in June, after the proposals were agreed upon by the CCG, but it is still awaiting a decision from Mr Hunt. It is not known when a decision will be announced.
However, trust chief executive Stephen Eames – who is also interim chief executive of Cumbria Partnership and is west, north and east Cumbria sustainability and transformation partnership lead – told HSJ the pending decision will not stop the trust recruiting the maternity team to run the two consultant led units.
The RCOA was commissioned to carry out a review of the anaesthetic arrangements for maternity at the trust and assess the three options put forward by the success regime.
The college found the region will need "considerable financial investment" and a "more imaginative" recruitment strategy if it is going to maintain two consultant led units.
The report, published this month, said the units will provide full choice for patients; is what the public in west Cumbria want; and will mean mothers who require extra care will not need to be transferred 40 miles from Whitehaven to Carlisle.
However, it said this plan will:
need considerable financial investment to get anaesthetic cover up to an acceptable level;
require more imaginative recruitment strategies to address failures in recruiting and retaining anaesthetists;
continue the running of two low volume, consultant led units with insufficient activity to maintain obstetric anaesthesia skills;
risk other surgical specialty support being absent;
lead to high costs in attracting locums for obstetrics, gynaecology and anaesthesia; and
require two extra consultants across both hospital sites.
The RCOA report said the other two options were not what the communities wanted and would lead to some women from west Cumbria having to give birth a long way from home.
North Cumbria University Hospital medical director Rod Harpin said: "It is reassuring that they haven't found anything that we weren't already aware of, but it does confirm the challenges we face in establishing a sustainable anaesthetics rota which is an essential service in providing consultant led maternity services."