PERFORMANCE: The Care Quality Commission has taken the unprecedented step of telling a chief executive they must improve their trust's accident and emergency performance.
The CQC issued a press release on Monday morning with the subject line: "North Middlesex chief executive told to improve services in emergency department".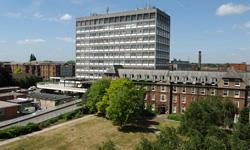 North Middlesex University Hospital Trust is led by Julie Lowe, who has been in post since February 2013.
The north London trust was inspected in April and the regulator has now issued a warning notice requiring the organisation to "significantly improve the treatment of patients attending the emergency department".
The CQC said the unannounced inspection: "Found the treatment model for patients was not effective. Inspectors found there were delays in the initial assessment of patients, in their assessment by a doctor and in moving them to specialist wards and that there were insufficient middle grade doctors and consultants."
NHS England data shows North Middlesex treated 82.8 per cent of type one patients within four hours in 2015-16. The national target is 95 per cent. This was down nearly 10 per cent from the trust's 2014-15 performance.
HSJ has previously reported that problems faced by the trust's A&E were partly caused by Health Education England ordering that junior doctors at the trust were given more supervision and time for training and less time delivering care, and that this had knock-on effects on the time available to higher grade doctors.
The CQC said the trust had been given until 26 August 2016 to make improvements.
CQC deputy chief inspector of hospitals Edward Baker said: "People going to the emergency department at the North Middlesex University Hospital Trust are entitled to a service that is safe, effective and responsive. When we inspected we found that patients were not receiving the quality of care that they should have been.
"We have strongly encouraged the trust to engage with other organisations across the local health and social care system to resolve this challenging issue. We will continue to monitor the trust closely, and will be returning for further inspections of the hospital to check that the service has improved."
The trust will this week have its first partnership board meeting with the Royal Free London Foundation Trust, as part of an arrangement to work as part of a hospital chain led by the Hampstead trust. The Royal Free is also exploring a buddying arrangement with West Hertfordshire Hospitals Trust.
Ms Lowe said in a statement: "We have one of London's busiest A&E departments and we performed well against the waiting time targets until last summer. However, we currently have only seven out of 15 emergency department consultants in post and seven out of 13 middle grade emergency doctors. It's a strain on our A&E team and it's making waiting times for some patients unacceptably long.
"We have undertaken extensive recruitment exercises and despite our best efforts have, so far, been unable to fill all the posts, although we have made good progress in recent weeks with the support of partners.
"We are working hard with our health partners to resolve the issues and bring the service back to the standard both we and our patients expect us to achieve."
A new clinical director of the hospital's A&E department will start later this month.
Ms Lowe added: "We are grateful to our health partners for their continued support and to our hardworking A&E team who continue to make patient safety their key priority."
The trust said it does not anticipate hitting the national A&E target until towards the end of the year.
*Updated 9.58am 7/6/2016
Health Education England have got in touch to say they were right to ask North Middlesex to make the changes they have.
A spokeswoman said: "We will not hesitate to act if we feel that doctors in training are not being supervised properly as that would mean they may not be able to deliver safe and effective care and they will certainly not be learning appropriately. We have worked with the trust and system partners in regard to this and required a number of immediate improvements to be made, including a review of rotas and the allocation of senior staff to support the emergency department whilst additional consultants were recruited to the service."